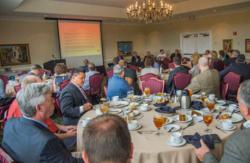 "The only offshore model I've seen consistently and successfully has been a mixed model," said Jeff Garbus.
Tampa, Fl (PRWEB) June 19, 2013
When it comes to innovation and planning technology strategies, nothing is better than an interactive panel of five top CEOs, CIOs and CTOs in the West Florida market, along with 33 C- level attendees, connecting and collaborating to share their insights and experiences.
On Wednesday, June 5, 2013, Chetu Inc., a world-class IT solutions company, sponsored Florida ProConnect's Executive Technology Panel Series. Organized and hosted by Patricia Jimenez, National Accounts Manager of Chetu, Inc and Founder /Director of Florida ProConnect, the discussion was created for top technology executives of small to large sized companies interested in positioning themselves as global talent, maximizing their options for success and learning their key initiatives for 2013.
The event took place at the Tampa Centre Club and included networking, lunch, and Q&As. Pat Jimenez kicked off the meeting introducing ProConnect and Chetu, the sponsor for the event. Comments from attendees included: "top-notch educated and diverse panel", "non-biased educated answers", "good organization" and "suggestions for time to be extended to 2 hours at next event". Of the 48 attendees, 33 were CIO/CTO/CEO titles of SMB to Fortune 500 companies both private and public entities.
"Our customers' needs and requirements are changing rapidly with new services and technology becoming more directly available to our user communities almost daily," said Michael Pearce, CIO at the University Of South Florida. "To remain relevant as technology leaders for our companies we need to expand and rethink how we approach the delivery of our services and what the technology game changers that set on the horizon might be. We must look to identify scalable, flexible, secure environments, whether they be cloud based, hybrid, or local that integrate vast, diverse data environments, with new data analytic tools, and provide simplified user interfaces and delivery models that can accommodate preferences."
The panel members included:

The panel was moderated by Andy Swenson, CEO of Delbridge Group, a firm that helps growing businesses optimize IT and security investments.
Much of the discussion was centered on where these executives foresee technology going and what will be most beneficial for both companies and customers. Panel members agreed that companies would want initiatives to go tablet based.
"Technology is becoming more personal in nature," said Bill Marshall. "Everyone has access to some type of smart device. Some software developers' goal is to simplify the process to separate the user from their funds and they are very good at it. So that points to the need for great security. The future of our technological base is going to be based on how well we have protected our data. This is on all fronts. Financial, engineering, copy right and patent functions in the private sector are all going to be impacted by the level of security."
"The security is an advantage," answered Steve Beaty."50 to 60% of the business moves into that sector. Next step—back panel set up… PC and tablet all in one."
"As the technologies are coming in," added Bill Marshall, "More and more [of payments] are on tablets. Even at stores, they buy on a tablet. We are up to 35% in mobile traffic."
Among the other topics discussed at the panel was the onshore vs. offshore debate.
"The only offshore model I've seen consistently and successfully has been a mixed model," said Jeff Garbus. "Where analysis and project management stay close to the consumer, and the developers report directly to an onshore project manager or one that works directly with the onshore manager." Coincidently, this is the exact same type of model that Chetu (sponsor) employs for their software development, known as the "Best of Both Worlds" model.
When asked about how they felt about Cloud, the panels' opinions differed.
"From a data perspective," said Garbus. "I am paranoid. Depending on what you are doing, there are good uses for the Cloud." Jeff said "One of the consistent technology trends I've seen lately has been understaffing in the database arena, leading to negatively snowballing performance and other negative effects that lead to unnecessary hardware purchases which only mask the problems for a while, if that."
"At Dex our Business is Cloud-based," said Beaty. "Proper security is important, encryption. A big challenge is that there are certain things we can't do on the iPad. Cloud is great, but we have seen clients overdo it."
Pearce added that approximately 40% of the services USF provides are being outsourced via Cloud..
"Most of the time I think these events are a waste of time, but I thought this one was good for several reasons," said attendee, Dennis P.H. Mihale, MD, MBA, CMO of Chelsea Management Group. "The panel had the right view and insight to make their perspective valuable. They gave us real answers and not the pure high level stuff that everyone knows and does not value. They answered questions, not just the obligatory response but a complete, well thought out answer."
Florida ProConnect is an integrated Technology Services Association with noncompeting companies that service a similar customer base and compliment services for their clients. To learn more visit:http://floridaproconnect.com. Their next event, scheduled for July, will be a happy hour for CIO, CTO, and CEOs, followed up with another panel discussion in September. To join the email list or request information for membership, contact Pat Jimenez at patriciaj (at) chetu (dot) com.
Member categories of ProConnect include IT Compliance, data base consulting, data center operations, Imaging/printing, IT staffing, VOIP services, Data and voice communications, custom software development, marketing managed IT services and more.
Chuck Nelms, CEO of Strategic Media Inc and member of Florida ProConnect, provided the design of the ProConnect website and logo. For this event, he also provided the photography and assistance with news release. Many other members assisted with registration and set up during the event. Content for website was provided by Pat Jimenez.
About the sponsor, Chetu, Inc.
Chetu is a 13-year old provider that delivers World-Class IT Solutions serving entrepreneurs to Fortune 500 clients. With a growing team of over 700 skilled employed engineers spread across seven global locations, it is able to provide a unique delivery model that blends an onsite / offsite team in a setting that fits customer's budget, yet does not compromise on local interaction or real time collaboration. Beyond providing IT resources, Chetu also excels in providing industry specific and niche technology solutions, be it Healthcare, Retail, Finance, Telecom, Gaming, Hospitality, Travel, E-Learning, Supply chain or others. Its services include process and systems design, package implementation, custom development, business intelligence and reporting, systems integration, as well as testing, maintenance and support. Chetu's expertise spans across the entire IT spectrum. For further information please visit http://www.chetu.com