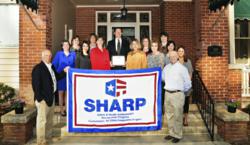 The SHARP Award is a compliment to Dr. Williamson's commitment to dental health services and health care safety procedures
Raleigh, NC (PRWEB) June 20, 2013
A Raleigh, NC dental practice known for superior care and treatment recently received the 2013 Safety and Health Achievement and Recognition Programs (SHARP) Award for the third straight year.
Dr. Robert Williamson's Raleigh Comprehensive & Cosmetic Dentistry practice received the award from the North Carolina Department of Labor. The award is considered a top honor and Raleigh Comprehensive and Cosmetic Dentistry is one of only two dental offices statewide that have been awarded.
To qualify for the SHARP Award, offices must pass a comprehensive and strict site inspection in addition to following the guidelines set forth by the North Carolina Department of Labor. Dr. Williamson's proven high level of standards granted him a three-year certification this year.
"The SHARP Award is a compliment to Dr. Williamson's commitment to dental health services and health care safety procedures," said SHARP Bureau Chief John Bogner.
The unique and patient-focused care also led him to be recognized for the ninth consecutive year as "America's Top Dentist" by the Consumer Research Council of America.
"I am honored to be recognized on state and national levels for the high level of dental care we offer," Dr. Williamson said. "We work hard to provide our patients with the best service and dental care in North Carolina. I believe this distinction from the Department of Labor emphasizes the lengths we go to for our patients care."
ABOUT RALEIGH COMPREHENSIVE & COSMETIC DENTISTRY:
A leading North Carolina dental practice, Raleigh Comprehensive and Cosmetic Dentistry is committed to offering high quality dental services and exceptional patient care. Led by Dr. Robert L. Williamson III, Raleigh Comprehensive and Cosmetic Dentistry offers a full spectrum of dental treatment options to patients, including expertise in comprehensive dentistry, cosmetic dentistry, implant dentistry and oral sedation dentistry. Dr. Williamson has been selected as a Top Dentist in the US by the Consumers' Research Council of America, a distinction he has held for more than eight years. His office is one of only two medical or dental offices in North Carolina to earn the Safety and Health Achievement (SHARP) Award by the Department of Labor. For more information, visit http://www.RaleighDentist.com or call 919-DENTIST (919-336-8478).