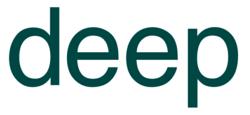 Smart, purposeful and relevant design is a hallmark of Deep communications, and Preston's talents will help further elevate our portfolio.
Springfield, Mo. (PRWEB) June 20, 2013
The foodservice marketing agency, Deep, today announced a new addition to its creative team: Senior Art Director Preston Brigham. The experienced advertising art director has a passion for illustration and typography and has produced impressive results from his previous work on campaigns for well-known food brands including Krispy Kreme and Sonic Drive-In. Deep Partner, Creative Director Dan Stewart anticipates that Brigham's experience and expertise will be of great benefit to their clients: "We admired Preston's work before we ever met him, and after seeing his mind at work over the past few weeks, I'm certain he will help us make a big impact for our clients."
In addition to working on major food branding campaigns, Brigham has instructed typography classes at Johnson County Community College (JCCC) in Kansas. Brigham's extensive knowledge about typography will further expand Deep's design capabilities, continuing their history of success in designing leading-edge collateral materials and print ads. "My passions lie in typography and illustration," Brigham says.
Brigham's passion for elements of design make him a good fit for Deep, and he noted that the agency's unique culture attracted him right away. "When I first visited Deep to meet the foodservice marketing team, I noticed a genuine, enthusiastic energy," Brigham said. "I was impressed by the caliber of work the Deep team produces. I'm really looking forward to creating great work with the Deep team." Given the collaborative nature of Deep's advertising team, clients will benefit from Brigham's ideas and his own creative energy as they craft new and original campaigns.
Stewart noted that gaining Brigham's expertise will further distinguish Deep from other agencies as they create interactive marketing solutions, print ads and other advertising materials: "I was impressed with Preston's conceptual ability, partnered with his strong design aesthetic and command of solid typography knowledge. Smart, purposeful and relevant design is a hallmark of Deep communications, and Preston's talents will help secure and elevate our portfolio."
Deep has an excellent track record in crafting compelling ad campaigns for the foodservice industry, and the addition of Brigham is sure to strengthen the agency's already-strong creative offering.
Deep
The persuasive advertising and foodservice marketing group Deep was founded in 2005. The agency is known for creating breakthrough food branding campaigns. Headquartered in Springfield, Mo., Deep is part of Marlin Network and is 100% employee owned. The agency is the number one purchaser of foodservice media and represents more than 70 food and beverage brands. The Network consists of Deep, Marlin, FoodIQ, Alchemedia Project, Marlin Network Consulting and STARAwards. Marlin Network was included in Inc. Magazine's lists of America's Fastest Growing Companies in 2010 and 2011 as a member of the Transworld Advertising Agency Network. For more information, visit deepgroup.com or follow them on Twitter, Facebook, Flickr and the b!eep blog.