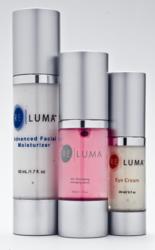 "Yvette Baretto is a dynamo" - Scott Kimball, CEO Vestiage
Newport Beach, CA (PRWEB) June 26, 2013
Vestiage, Inc. (stock symbol "VEST") a publicly traded anti-aging lifestyle company focused on science-based research and development, sales and marketing of premium branded highly effective anti-aging cosmeceuticals and nutraceuticals, announced today that it has awarded the exclusive Vestiage territories of Los Angeles and Orange County to Yvette Baretto. Baretto and her team will begin selling the Reluma brand to select premium and prestige salons, spas, resorts, physicians, skin care boutiques and other select retailers immediately and will work from the Vestiage corporate headquarters in Newport Beach, California. Reluma is a revolutionary facial care product using the latest human stem cell technology and is manufactured in Southern California.
"Yvette is a dynamo," said Scott Kimball, CEO of Vestiage, Inc. "The Los Angeles and Orange County territories are considered "prime real estate" as this the anti-aging capital of the world. These territories are probably the most significant for us in the US along with New York and Miami. I can't think of a better person to award these territories to and I am pleased to have her actively building a top flight sales team here on our home turf."
These two major territories cover an estimated 7,000 potential premium and prestige wholesale customers.
The Vestiage Territory Program awards exclusive Vestiage Metropolitan Statistical Areas ("MSA's") to qualified companies or individuals that sell to salons, spas, retailers, resorts and physicians in each MSA territory. Vestiage provides product literature, retail displays, product training, and marketing/sales support.
Vestiage gives its territory awardees the ability to sell the most sophisticated and advanced skin care line with very little investment. Vestiage is not charging for the territories. Vestiage provides marketing materials, retail displays, and pays for the product that is ordered, ships to the buyers, and pays the territory awardees a commission on all sales in the territory. Vestiage further supports the salon or spa customer with a media and PR campaign that highlights their business in the press and is designed to drive premium and prestige customers to their locations after they have become consistent Reluma buying customers.
The complete Reluma skin care line sells for $435 at retail. According to certain industry experts at Canyon Ranch, the average woman at their spa locations spends an average of $750 per month on product. This does not include facials or other procedures. The Reluma skin care regimen is simple and includes a cleanser, a serum, a moisturizer, and an eye cream. The Reluma Serum is often used post-procedure to calm skin and enhance healing time. More information on the Vestiage Reluma Territory Program is available upon request to qualified applicants.
"The Reluma line is attractive to the higher rated salons and spas because it utilizes the latest science, the clientele love how it feels and works, and financially the salon or spa can make a large amounts by carrying the line, using it in 'stem cell facials' and putting as few as 1-2 women a day onto the Reluma regimen" said Kimball.
Several attractive territories remain available including Dallas, Houston and the San Francisco Bay Area. For more information on the Vestiage Territory Program, please email your request to info(at)vestiageinc(dot)com or call 949-258-4404 and ask for Garrett Heiser, Vice President of Operations.
About Vestiage, Inc.
Vestiage (stock symbol "VEST") is a publicly traded anti-aging lifestyle company offering premium branded science-based cosmeceuticals and nutraceuticals. Vestiage is focused on the use of human stem cell, marine/ocean, and cutting edge botanically based science and ingredients to produce highly potent, elegantly formulated, effective products with clinically proven ingredients. Using high potency and novel ingredient combinations, Vestiage creates and distributes cosmeceuticals such as Reluma (http://www.RelumaSkinCare.com) and multifunctional nutraceuticals through Monterey Bay Nutraceuticals (http://www.MontereyBayNutra.com). Vestiage brands address the top "in demand" anti-aging consumer concerns. Vestiage research is focused on longevity and human performance science that covers both the cognitive and physical realms. As clinical results validate discoveries, Vestiage intends to apply new potential ingredients or ingredient formulations and combinations to its anti-aging products across brands. To learn more, visit the Company website, http://www.VestiageInc.com.
This Press Release contains forward-looking statements within the meaning of the Private Securities Litigation Reform Act of 1995 with respect to our financial condition, results of operations and business. These forwardlooking statements can be identified by the use of terms such as "believe," "expects," "plan," "intend," "may," "will," "should," "can," or "anticipates," or the negative thereof, or variations thereon, or comparable terminology, or by discussions of strategy. These statements involve known and unknown risks, uncertainties and other factors that may cause industry trends or our actual results to be materially different from any future results expressed or implied by these statements. Important factors that may cause our results to differ from these forward-looking statements include, but are not limited to: (i) changes in or new government regulations or increased enforcement of the same, (ii) unavailability of desirable acquisitions or inability to complete them, (iii) increased costs, including from increased raw material or energy prices, (iv) changes in general worldwide economic or political conditions, (v) adverse publicity or negative consumer perception regarding nutritional supplements, anti-aging or stem cell facial care products or stem cell technology in general, (vi) issues with obtaining raw materials of adequate quality or quantity, (vii) litigation and claims, including product liability, intellectual property and other types, (viii) disruptions from or following acquisitions including the loss of customers, (ix) increased competition, (x) slow or negative growth in the anti-aging or cosmetics, beauty, or nutritional supplement industry or the healthy foods or anti-aging channel, (xi) the loss of key personnel or the inability to manage our operations efficiently, (xii) problems with information management systems, manufacturing efficiencies and operations, (xiii) insurance coverage issues, (xiv) the volatility of the stock market generally and of our stock specifically, (xv) increases in the cost of borrowings or unavailability of additional debt or equity capital, or both, or fluctuations in foreign currencies, and (xvi) interruption of business or negative impact on sales and earnings due to acts of God, acts of war, terrorism, bio-terrorism, civil unrest and other factors outside of our control. Copies of our reports are available upon request from our investor relations department or may be obtained at http://OTCMarkets.com).