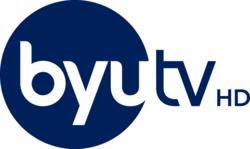 Provo, UT (PRWEB) June 20, 2013
BYUtv, whose groundbreaking roster of original programming aims to "see the good in the world," today announced that their full-length High Definition feature film, Silent Night, is the recipient of a 2013 Gabriel Award for "Best Entertainment," given by the Catholic Academy of Communication Professionals. The international Vatican-approved communications organization for the Catholic Church holds the annual Gabriel Awards to honor works of excellence in film, network/cable television and radio programming that "uplift and nourish the human spirit." Awards will be presented at a ceremony on June 20th in Denver, Colorado.
"We applaud the Catholic Academy of Communications Professionals' efforts to spotlight inspiring content and are delighted to be honored for this film," said Derek Marquis, managing director of BYUtv Broadcasting and Executive Producer of Silent Night. "This recognition only fuels our commitment to produce programming like Silent Night, which simultaneously uplifts, edifies and entertains viewers."
"BYUtv's Silent Night exemplifies the Gabriel ideal of programming that celebrates the resiliency of the human spirit in an enriching and entertaining way," said John Kearns, Chair of the Gabriel Awards. "On behalf of the Catholic Academy, I extend congratulations to BYUtv and applaud their efforts to 'see the good in the world' in their original media productions."
The most popular Christmas carol of all time
Shot entirely on location in Austria, Silent Night tells the powerful true story behind the most popular Christmas carol of all time. Transporting viewers back to the year 1818, to a small town in Austria, the historic recreation follows priest and composer Joseph Mohr through the poignant challenges that ultimately lead him to write Silent Night. A believer in delivering the words of God in German, rather than in traditional Latin, Mohr made his sermons accessible and understandable to the common person, and reached out to include local outcasts and renegades in the church choir, which also sang in German.
When forced to cease his activities, he lost hope and doubted his abilities as a religious leader. Dramatically, on the night before Christmas, Mohr embraced the true significance of the Holy Night and led the spiritual performance of the newly minted song Silent Night, thereby unifying both congregants and clergy.
The film's Austrian-born producer, director and screenwriter, Christian Vuissa, has also directed The Errand of Angels and One Good Man (2009), The Letter Writer (2011) and Roots and Wings (2002).
A breadth of original programming
Available in more than 53 million homes in every state of the country, BYUtv continues to draw viewers to its wide range of original programming. The most recent addition to the network's existing roster of shows is their first original scripted series Granite Flats, a Cold War suspense drama that premiered in April, 2013. BYUtv's sketch comedy series, Studio C has a loyal national following and millions of views on its YouTube channel. Last year, BYUtv introduced two notable mini-documentary series that delve into the contemporary music scene: The Song that Changed my Life and Audio-Files. In 2011, the station launched American Ride, a popular American history series hosted by Stan Ellsworth – the 6'2", 300-lb, muscle-clad former football player, coach, and high school history teacher, who tours the country on his Harley Davidson. Additionally, BYUtv airs more than 150 live events and sports-related programs per year. With a groundbreaking contract with ESPN, BYUtv has set a new standard for college football.
About BYUtv
Owned by Brigham Young University and based in Provo, Utah, BYUtv is a groundbreaking High Definition television network, which has built its roster of original "see the good in the world" programming to fill a void in the primetime market. Whether through unrivaled live college sports coverage, documentary and feature films, scripted and improvisational comedy, scripted dramas or unscripted reality programs, BYUtv is a vital presence in the contemporary television landscape. Currently, BYUtv is available in High Definition and is carried to more than 53 million homes on Dish Network, DirecTV and over 800 cable systems in every state of the country via cable and satellite. All content is additionally available via Internet streaming at byutv.org. The non-commercial station's reach is unprecedented at any university in the world, and offers approximately 1,000 hours of original programming annually (500 hours of sports and 500 hours of content).
About The Catholic Academy
The Catholic Academy of Communication Professionals (CACP) is a professional organization of communication professionals supporting the mission and ministry of the Catholic Church in the United States. CACP is sanctioned by the United States Conference of Catholic Bishops (USCCB) as the US affiliate of SIGNIS (the World Catholic Association for Communication, which is also recognized by the Holy See).
CACP is the official and primary organization for diocesan Directors of Communication and communication professionals involved in the many ministries, offices, dioceses, archdioceses, religious orders and organizations serving the Catholic Church.
About the Gabriels
The Gabriel Awards are designed to honor works of excellence in film, network and cable television and radio programs. These include, feature films and documentaries, entertainment and news programming, public service announcements, and stations which serve audiences through the positive, creative treatment of concerns to humankind. Categories for TV and radio include both English and Spanish language programs.
The single most important criterion of a Gabriel winning film or program is its ability to uplift and nourish the human spirit. A Gabriel-worthy film or program affirms the dignity of human persons; it recognizes and upholds universally recognized human values such as community, creativity, tolerance, justice, compassion and the dedication to excellence.