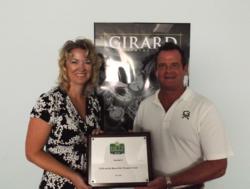 Vero Beach, FL (PRWEB) June 19, 2013
The June 2013 HETY Award has been granted to Girls on the Run of the Treasure Coast. Girls on the Run is a program that utilizes running to empower participants to make healthy choices in their lives, develop leadership skills, and develop self-confidence and self-respect. Participants meet twice a week for twelve weeks and have the opportunity to take part in a 5k Fun Run at the end of the season. During each meeting, girls play creative running games that help them learn about healthy living.
The program will be offered in the fall to girls in grades 3-5 at several locations in Indian River County. A separate program, Girls on Track, is available for older girls in grades 6-8. Parents are encouraged to get involved and can serve as volunteers or coaches. Scholarships are available for those in need. For more information, please visit their website at http://www.girlsontheruntc.org.
To nominate your youth-focused organization for the HETY Award, presented each month by Girard Equipment, visit http://www.girardequip.com to download the application.