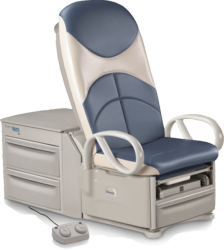 In addition to improving patient safety, the convenience of a single transfer...greatly improves patient satisfaction.
Menomonee Falls, WI (PRWEB) June 25, 2013
The Brewer Access® High-Low Exam Table 700 is the first power exam table solution in the industry to offer a 700-pound weight capacity to meet the demands of an increasingly heavy patient population. This newest product in the company's award-winning line of chair-to-table designs easily and safely takes patients from consultation to examination.
Brewer's Access High-Low Exam Table design provides an 18-inch profile in the seated position to allow level transfer from standard wheelchair heights, complete with upright seat back and safety grab bars to simplify reliable patient transfers. The system also offers abundant storage capacity with Brewer's signature pass-through drawer system and it's backed by Brewer's standard three-year warranty.
According to figures released in 2012 by the Centers for Disease Control and Prevention, obesity in the United States is projected to continue to rise over the next 18 years to 42 percent of Americans – up from 34 percent – by 2030. And although that growth rate has slowed over the past three decades, the numbers of severely obese – those carrying 80 or more excess pounds is expected to increase by 130 percent.
"Our goal for the design of the High-Low Exam Table 700 was to assist providers in safely managing both bariatric patients and other weight-challenged patients," says David Bussa, vice president of marketing for Brewer. "In addition to improving patient safety, the convenience of a single transfer, say from a wheelchair to a consultation-suitable table height without having to transfer again to an exam table, greatly improves patient satisfaction."
Reducing the cost of workplace injury is another increasingly high priority for healthcare providers. The costs of treatment, rehabilitation and workmen's compensation costs impact the bottom line for providers like never before. "The potential for the High-Low Exam Table 700 to reduce staff injury when assisting bariatric patients or morbidly obese patients with a transfer or exam readiness is significant," Bussa says. The company's existing line of power assist tables already include several that provide easy wheelchair transfers at 18 inches and support up to 450 lb. weight capacity.
"Keeping all patients – including bariatric patients or obese patients – and the healthcare professionals that care for them safe is our charter. We're excited about the Access High-Low Exam Table 700's unique ability to directly address these safety challenges."
About the Brewer Company
The Brewer Company has been a leading manufacturer of medical equipment for more than 60 years. Based in Menomonee Falls, Wisconsin, Brewer offers a comprehensive line of medical power procedure tables, exam tables, exam room seating and lighting, and other chrome support products including IV poles, hampers, and mayo stands. For more information, please visit: http://www.brewercompany.com.