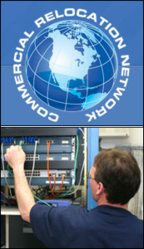 According to a spokesperson for the membership organization, "It's always been our mission to provide best in class commercial relocation, storage, and asset management to our commercial and industrial customers."
(PRWEB) June 18, 2013
Office Moving Commercial Relocation Network (CRN), a leading membership organization of commercial and industrial relocation services, is pleased to report that it can provide sensitive data center relocation to businesses across the country. This service is crucial for any businesses or organizations with essential business operations that can't be interrupted by a change in location.
How does data center relocation work? One of the first things to do is arrange for careful handling and a tight delivery schedule to ensure minimal downtime. The group offers routine data center relocation, but it also features customized solutions and service models for those with specific requirements. Some of the services provided in a data center relocation include disconnect and reconnect, electrical and communications, cabling, and voice and data. All of these add up to a painless and efficient service with attention to the details that matter most.
In addition to its quality data center relocation services, Office Moving CRN offers a wide range of relocation and storage services. Some of the many available services include general moving services, business relocation services, installation services, packing services, computer services, recycling and disposal services, and consultation services. According to a spokesperson for the membership organization, "It's always been our mission to provide best in class commercial relocation, storage, and asset management to our commercial and industrial customers."
About Office Moving CRN
For a number of years, Office Moving CRN has served as a membership organization for the largest and most successful office and industrial relocation companies throughout the United States. An executive committee of professionals in the industry manages the group and hand selects only the very best companies to round out its ranks. For both routine and specialized relocations, the best choice for the job is Office Moving CRN. For more detail please visit, http://www.officemovingcrn.com/.