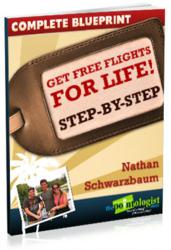 Plainview, NY (PRWEB) June 19, 2013
Nathan Schwarzbaum, a successful entrepreneur and frequent traveler, has spent years cracking the code of free travel through his credit card programs. Now, he's bringing his secrets to consumers at large with his new book, Free Flights for Life, a complete guide to earning rewards points and miles for flights and hotel stays.
Over the past 10 years, Nathan has traveled literally around the world with his wife and their two sons, flying everywhere from Venice to Montreal using rewards points from American Express, Capitol One, and other credit card rewards.
Schwarzbaum's concept of the book arose out of what he saw was a true lack of coherent and consistent information on leveraging travel rewards programs. "Yes, there are a bunch of rewards points blogs, but it was truly hard to find all the secrets and trips experienced travelers used all in one localized place. My friends and family members have always come to me for advice on booking trips with their rewards points, and I figured that more people needed access to an easy-to-follow method to maximizing their points."
Free Flights for Life walks readers through everything they need to know about travel rewards, from getting the biggest sign-up bonuses on credit cards to the best reward flight booking strategies. Accompanying the E-book is the Blueprint, a checklist workbook that helps users track their progress in setting up and earning through new rewards programs.
As committed as Nathan is to helping people travel for free, he is offering exclusive email support with the purchase of Free Flights for Life.
For more info, or to purchase Free Flights for Life, click here.