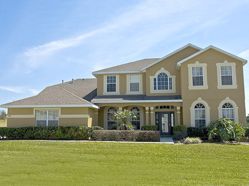 We love staying in a home while on vacation and not a hotel room. Vill4less rocks! Sharon Holmes
Orlando, Florida (PRWEB) June 25, 2013
Many families are now choosing to rent a luxury rental home during their Florida vacation. The ability to share expenses with friends and family for a Disney rental home has increased demand in this market. Luis Vicente, owner of Villa4less, has announced that his Orlando luxury home rental business has recently expanded its number of rental homes because, "We want you to enjoy your vacation with us for years to come."
According to their website, as many as 16 can share an Orlando luxury villa for far less than a corresponding hotel fee with far more amenities available to them. Instead of coming into cramped hotel accomodations after a Disney day, they could be expanding into a Biscane Bay villa with beautiful furnishings. The description includes "every imaginable requirement" including kitchen, laundry room, living & family rooms, games room, enclosed heated pool and spa, alarms on all doors leading to the pool area for safety, 7 bedrooms and 5.5 baths. This top-of-the line home rents for $300 to $400 a night (4 night minimum) depending on the season. For a large group sharing expenses, that breaks down to a very reasonable price for a place to let the kids take naps, the teens chill playing Foozball, and the grownups sit on the deck to talk.
Some may want an even less expensive place to stay without sacrificing that ability to stretch out. Villa4Less owner, Luis Vicente, has compiled a new range of options for the vacation-goer to choose from in his Disney rental home offerings. His vacation home communities have many repeat customers. A three-bedroom condominium in the gleaming Cane Island Resort can be as little as $80 for a 3-night minimum and as many as 8 people.
The Orlando luxury home rental home is where most folks decide they want to go. This is because the single home atmosphere allows them to have the privacy of their own home so they can completely relax with each other and enjoy their entire stay. Luis Vicente has included hotel-like services with the rentals, promising, "If you want it, we can arrange it. Just like any fine hotel, Villa4Less is able to handle practically any request that comes our way. From finding that perfect gift to providing you with your own personal tour guide or arranging your last minute wedding, let Villa4Less take the strain and allow you the pampered vacation you deserve."
That combination of concierge services and individual Orlando luxury villa can be a great vacation all by itself, but the area offers so much for the vacationer that if they choose to leave their own little lap of luxury and venture out, they can be gone all day. Between the famous Florida beaches, golfing, shopping, dining, theme parks, and attractions there is so much to do that many plan yearly vacations here. This new expansion of vacation rentals by Villa4Less will be welcome in the coming season.