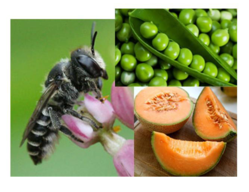 Gardeners can now buy gentle Leafcutter bees from Crown Bees for efficient pollination of summer fruits, veggies and plants.
Woodinville, WA (PRWEB) June 19, 2013
Crown Bees, http://www.crownbees.com, has teamed with Watts Leafcutter Bees to offer gardeners an efficient, gentle bee to pollinate summer plant and vegetable blooms from July through August. Adding the summer Leafcutter allows Crown Bees to meet customer needs for both spring and summer garden pollination. While from different bee families, both bees are solitary, gentle and more efficient pollinators than the declining honey bee.
Dave Hunter, Crown Bees' owner, explained, "Our customers create diverse gardens with crop and flowers blooms in both the spring and summer months. In order to meet their summer needs, we sought a bee that complements our popular Blue Orchard, a spring mason bee pollinator. We chose a superior supplier with Watts Leafcutter Bees. They have been raising Leafcutter bees for two generations, and share Crown Bees commitment to produce high quality bees."
Jim Watts, owner of Watts Leafcutter Bees, stated, "My father started our Leafcutter business to pollinate farmers' alfalfa seeds, and I grew up taking care of our bees in the fields. We are pleased to be a strategic partner with Crown Bees, and introduce gardeners to the Leafcutter, a busy bee that is not finicky about which plants to pollinate."
Leafcutters are great pollinators of legume (like peas), onions, canola, carrots, and melons, and just about any summer flowering plant. This bee gets its name from collecting and chewing leaf fragments to line the nest for egg laying. Gardeners can identify their bite size activity by the distinctive semicircle cut in the leaf at about 3/4 inch in diameter from the leaf's edge.
Hunter pointed out, "This cutting does not seriously damage the plant. It is a harmless way for a hardworking mother to protect her young within a green cocoon." Like the spring mason bee, Leafcutters build their cavity nests in soft, rotted wood, but do not damage homes or other wooden structures.
Bee Timeshare Saves Gardeners Money
"Adding Leafcutters is also economical," Hunter said. "Your leafcutter is busy and will quickly take up residence in your abandoned spring mason bee house. Think of your bee house as a timeshare used by seasonal native bees. Just replace the tubes or trays with smaller holes to accommodate the tiny Leafcutter bee," he said.
He stressed, "Do not use harmful plastic drinking straws or drilled blocks of wood. These can trap the eggs, and prevent harvesting for next season. Bee-safe houses help ensure sustainable growth for the bee population."
Leafcutters are about 2/3 the size of a honey bee so they nest in smaller holes. This non-aggressive solitary bee can do the work of 20 honey bees, for a 1:20 ratio, according to the ARS Bee Biology and Systematics Laboratory.
Visit the Crown Bees website to learn more about Leafcutters. Order bees and products by June for optimal summer pollination.
About Crown Bees
Crown Bees, founded in 2008 in Woodinville WA, is a leading native bee pollination company engaged in developing and marketing solitary bees and bee-safe products. Serving the retail and commercial markets, its focus is supplementing the declining honey bee with efficient, gentle mason bees and other solitary bees for food pollination. The Company develops and field tests bee-safe products, is a member of the Orchard Bee Association, and advisor to scientific researchers focused on wild bee identification and developing pollination management practices and ethics. This includes ASPIRE, an offshoot of the Specialty Crop Research Initiative (SCRI) sponsored by the USDA. Crown Bees products are sold in the USA, Canada and Europe.