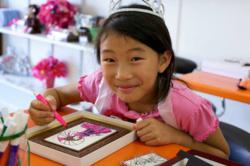 The choices for birthday parties are more younger kid oriented. For kids who are already involved in dance, gymnastics, or art, parents are looking for different party venues, a Tasty Image party fits the bill.
Jupiter, Florida (PRWEB) June 19, 2013
There's a buzz at the Tasty Image shop in Bethesda, Maryland's Westfield Montgomery Mall and it's not from adults clamoring to purchase last minute graduation gifts. It's from a dozen nine year-olds taking turns dipping marshmallows in a vat of warm, melted chocolate. As they dip and decorate their chocolatey creations, a dozen smartphones snap photos of this memorable moment. The star of the day, complete with pink glitter tiara, poses with each child before the kids sing a happy birthday song and she blows out the candle on her bowl of fruit and cookies drowned in chocolate.
Welcome to the world of the new tween birthday party. Well thought out, well themed, well planned, and more grown up. It's the grown-up fun that makes Tasty Image a popular choice with tweens. Brand Director Natasha Swerdlow agrees, "The choices for birthday parties are more younger kid oriented. For kids who are already involved in dance, gymnastics, or art, parents are looking for different party venues. A Tasty Image party fits the bill."
And parents are buying; each weekend the chocolate shop fills up with birthday party guests. "Sometimes we're booked straight through on a Saturday," says Bethesda, Maryland franchise owner Nelson Bendeck. "We set up, host the party, clean up, and set up again. Repeat a few times a day." A recent online coupon offer has helped too, filling up multiple 90-minute slots each weekend.
Bendeck, a father of four, understands planning parties. "I know first-hand how challenging it is to do it all: Create a menu, games, goodie bags, all while keeping guests occupied for one and a half hours at a stretch. When you book a Tasty Image birthday party, we take care of all that for you—activities, games, food, personalized party favors—including the set up and clean up. It's a real value."
Tasty Image birthday parties include chocolate-themed games, chocolate making activities, a turn in the chocolate photo booth for each child, goodie bags, the birthday child's photo printed on a chocolate portrait, and a Fun-Do topped with a candle for the birthday child. Up to twelve children can attend a Tasty Image birthday party and the fun is appropriate for ages 5-12.
As a tie in with the company's tenth birthday this month, reserve any child's party package before June 30 and receive 50% off the original price of $399.00—working out to $19.99 a child for a party of ten. Parents must select their party date between June 18-December 31, 2013 when purchasing the package.
On June 21, Tasty Image stores will celebrate the official company birthday with a full day of free chocolate, games, and fun. Each store will raffle off one free birthday party package that includes fun for the birthday child and nine guests. All customers will receive a specially designed custom chocolate coin printed with a discount or prize to commemorate the special day. As a birthday only special, stores will serve a Chocolate Flight tasting menu—three surprise chocolate items in the company's signature milk, dark, and white chocolates. The Chocolate Flight is free for each customer who visits the store on June 21.
Tasty Image CEO and Founder Derri Cerbone reminisces about Tasty Image's first days, "I knew from my first sale in 2003 this was going to be a successful business. I started small, selling products to my friends and neighbors and sometimes even the samples out of my purse. It just escalated from there—opening a store and then selling franchises." Business longevity is definitely top of mind for this teacher-turned-entrepreneur, "We hit some bumps and curves along the way, but I think at this point, we've learned a lot and we're poised to face the next ten, twenty, thirty-plus years. I can't wait!"
About Tasty Image:
Tasty Image is a Jupiter, Florida based company that prints personalized images on chocolate. Since 2003, Tasty Image has impressed individuals and corporations with their unique method of personalization by printing high-quality images, like photos or logos, on chocolate coins, cards, and frames. Tasty Image has six franchise locations, with twelve more planned in the US and abroad.
For more information on Tasty Image, contact Jennifer Sicotte at jennifer(at)tastyimage(dot)com or visit http://www.tastyimage.com.