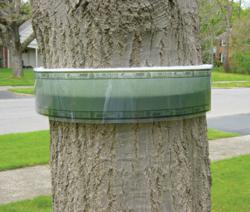 Victor, NY (PRWEB) June 20, 2013
Gypsy Moths are making a comeback with a vengeance. This is causing municipalities to take drastic measures. Counties in Maryland, Virginia, Ohio, Wisconsin, Illinois, Pennsylvania, West Virginia, Washington, and Oregon have begun aerial spraying trees with Bacillus Thuringiensis in an effort to control the spread of these destructive pests. To help increase the effectiveness of these efforts, property owners should band the trees on their property.
There is a variety of makeshift banding techniques but The Bug Barrier Tree Band® is a turnkey kit that has been tested by the USDA specifically against Gypsy Moth. USDA researchers determined that the BugBarrier Tree Band is the best physical barrier they have seen.
The BugBarrier Tree Band is clean, simple and effective. This band is a pesticide-free, adhesive banding system that homeowners can buy, or call on an arborist to install it. The band consists of a dense, flexible, fiber barrier that is wrapped around the trunk to fill bark crevices. The adhesive film barrier is then installed over the fiber, with the adhesive side facing the tree. Finally, top wrap is installed on top of the band and clings to itself.
This unique design eliminates unsightly debris and keeps insect carcasses out of sight. Best of all it can be installed in less than five minutes. When full, the band is simply removed and thrown in the trash or recycling bin.
University researchers, government entomologists and arborists in the field have tested the band, and have been using it successfully for more than 10 years. The BugBarrier Tree Band is so effective that it is required to be EPA registered as a "mechanical pesticide".
Bands should be installed now while the gypsy moths larvae are feeding. As the caterpillars eat a tree's leaves, they expose themselves to the sun's heat and predators. To survive, the caterpillars crawl down the tree to the cool shelter of the tree base on a daily basis. The BugBarrier Tree Band allows the caterpillars to crawl down the tree, but catches them as they crawl back up the tree at dusk. The bands can be left in place through the summer and early fall to catch adult females as they climb the tree to lay their eggs. If the band becomes full, they can easily be removed and replaced.
For product information and a list of distributors, visit http://www.treebands.com or call (800)379-9677.
The BugBarrier Tree Band is manufactured by Envirometrics Systems USA, Inc. and distributed by Southern Organics located in Monroe NC. order by calling (704) 283-2457.