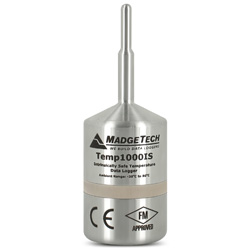 Warner, NH (PRWEB) June 18, 2013
The Temp1000IS temperature data logger is a rugged, submersible, battery powered, stand-alone device which can be used to automatically record temperatures between -20 and 80°C. The new stainless steel enclosure of the Temp1000IS comes with the serial number and device name engraved. The device interfaces with the IFC400 (sold separately) docking station and can be placed directly into the docking station for full communications. No more removal of end-caps to download data. The small size of the Temp1000IS allows it to be placed in more remote or hard to reach locations. To save time and expense, the device now features a battery life indicator allowing users to easily identify low voltage and change batteries when required. The Temp1000IS can hold up 32,767 temperature measurements. Its real time clock ensures that all the data is time and date stamped.
The Temp1000IS is FM Approved and certified as Intrinsically Safe for Class 1, Division 1, groups A, B, C, and D and non-incendive for Class 1, Division 2 groups A, B, C, D and hazardous environments.
The MadgeTech Software is available to download for free from our website http://www.madgetech.com. The MadgeTech Software allows users to remotely communicate with MadgeTech wireless data loggers, and is also a powerful, analytic tool. Data can be viewed in graphical or tabular formats and summary and statistics views are available for further analysis. The software features export to Excel®, data annotation and digital calibration. The Temp1000IS is now priced at $199. For more information, please visit http://www.madgetech.com or call (603) 456-2011.