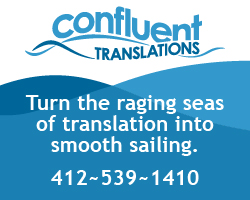 Pittsburgh, PA (PRWEB) June 20, 2013
Confluent is a leader in the translation industry serving a diverse range of medical, software, manufacturing, safety, chemical, B2B, retail and government customers throughout the world.
According to Charlene Nagy, Confluent's President and CEO, they had hard evidence that when the time was taken to engage prospects and client via social media, and direct them to the website, valid leads were being generated and converted to new clients. "What was missing was a central system that enabled us to repurpose material and send messages simultaneously." stated Nagy. "There was always the issue of who was going to take care of which tasks, and then finding the actual time to do it."
"We also learned what is important to each of our target markets, what is really news worthy, and investigated tools to help our efforts," says Nagy. "With our new process, the ability track news about our company and our competitors, analytical capabilities, coordinating our social media, email campaigns and website updates, I believe we will see even greater results moving forward." Confluent is also working on seeking news reporter leads and hopes to capitalize on that new capability as well.
About Confluent Translations
Confluent is a recognized leader in the translation service industry and is an ISO 9001:2008 woman owned firm located in Pittsburgh, Pennsylvania. Founded in 1992, we also hold GSA contract # GS-10F-0098Y. Confluent serves a diverse range of industries in the B2B, retail and government customers throughout the world and offers basic, standard, and certified translations for any type of medium or use, from brochure, IFUs, and software to on-line training that includes narration or subtitles. For more information about, visit http://www.confluenttranslations.com.