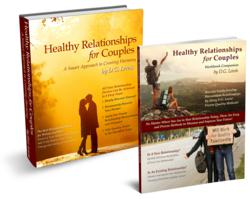 If we can help save one relationship or child affected by a broken relationship, then all the research and years spent discovering this simple, smart system was well worth it.
Los Angeles, CA (PRWEB) June 20, 2013
When the love of your life suddenly dies at the young age of 45, and you were in the middle of the perfect relationship, your entire world can easily crumble. This was the unfortunate tragedy which happened to author DG Lewis. After over 25 years of bliss and building a life together from humble beginnings to a comfortable lifestyle, to tragically and suddenly becoming a single Father with their two children to raise, after his wife's passing, DG Lewis was floored. Looking for strength and purpose, Lewis remembered a challenge from his wife Tish, "She told me our relationship was everything she always wanted," remembers Lewis, "She challenged me with, 'You've done a great job in your career of creating quality-control systems, but there's no way you could capture what we have into one of your quality deal-e-o's?'"
While working through his great loss and raising his two children, DG Lewis accepted this challenge and made it his life's work to honor Tish with creating a quality system for anyone to have what they experienced, but simple enough so anyone from teens through the elderly could understand and apply core principles and concepts to find or create their dream relationship.
"This relationship guide is my Taj Mahal, so to speak, to my dear Tish," said DG Lewis. He didn't just capture what they had, but wrote the book "Healthy Relationships for Couples" and it's "Workbook Companion" for his readers to build their own great relationships and Taj Mahals.
From many preliminary reviews and having pre-sold a number of books before the website http://www.HealthyRelationshipsForCouples.com was completed, DG Lewis knew he was already making a difference. "If we can help save one relationship or child affected by a broken relationship, then all the research and years spent discovering this simple, smart system was well worth it."
"Throughout my extensive research and experience compiling quality factors in countless areas of business and manufacturing, I have come up with the easiest system for anyone to understand how they can have the kind of relationships they only dreamed about."
DG Lewis drew from his endless amounts of personal and professional research studies and experience to find common patterns for what works and what doesn't. As he dove into this Relationship Research Project, he quickly learned that these methods not only captured the important factors in their relationship, but also observed these same qualities in every successful relationship; starting with his parents. And the miserable, failing or failed relationships had significant problems in one or more of these factors. He compiled everything into one smart approach which will help create harmony for any and all relationships by learning 4 Simple Steps.
Throughout the process of compiling his tribute to Tish, DG Lewis developed an infallible formula which includes the 13 Quality Factors that significantly affect relationships. By providing an easy to follow "Workbook Companion" along with the "Healthy Relationships for Couples" book, anyone can grade the quality scores of their own relationships and improve in the right areas! Even if you're not in a relationship, there are self-improvements and what to look for in the ONE you want to be with. And with a little thought, you'll easily see that you can apply these methods to romantic, professional, or familial relationships.
As part of DG Lewis' "give back and pay it forward" mentality, he has set aside a generous charity budget and is establishing on-going relationships with a few charities where 12.5% of all book sales and 20% of all web site membership revenue will go directly to our charities of choice … a give back guaranteed pledge from DG Lewis. "My whole purpose for taking on this massive challenge was to honor my dear wife, and to help others. There's no better way I can accomplish all of these goals than by setting up a charitable aspect to the book and workbook package which is already created to help everyone who reads them. We're paying it forward by working with Adopt a Classroom to help Teachers and Students before sales even begin. I think Tish is proud of what I've accomplished so far and there's plenty more to be announced as our charity programs mature!"
About DG Lewis
DG Lewis is an independent and self-published author with decades of quality score experience, being in a Fairy Tale relationship and extensive research and observations in compiling all the essential skills into one simple system which anyone can understand, follow, and use to improve the quality of their own relationships. He's taken his decades of writing about Corporate Quality Techniques and putting it directly into the hands, minds and hearts of the people! He wants to bring Quality back to America and says it starts with Quality Relationships!
Media Inquires:
For Media Inquiries, please contact Louis Tanguay, Circle Marketing, 323-639-3406 - http://www.CircleMarketing.com - for more information on DG Lewis and "Healthy Relationships for Couples."
###
For more details about "Healthy Relationships for Couples," or to schedule an interview with DG Lewis, please call Louis Tanguay at 323-639-3406, or e-mail Louis(at)CircleMarketing(dot)com.