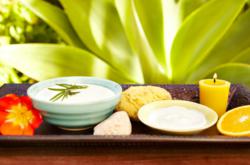 San Francisco, CA (PRWEB) June 21, 2013
The all natural body care department at Westerly Natural Market leaps forward with its addition of Adama Minerals gluten-free Moisture Intense Lotions for dry skin from leading organic body care manufacturer, Zion Health. Each lotion is designed to balance, moisturize and soothe skin using healing calcium bentonite clay, without gluten, harsh chemicals or sulfates. Sourced from volcanic ash, calcium bentonite clay has the ability to absorb bacterial toxins, and regenerate healthy growth. As a key ingredient in Zion's Moisture Intense Lotions, the natural clay is known to repair dry skin while gently drawing out toxins.
Gluten-sensitive consumers are beginning to speak up after experiencing allergic reactions to conventional skin care products and cosmetics. US News Health reports that individuals suffering from a gluten allergy or Celiac disease can react to gluten even when products are applied topically. According to Alice Bast, founder and president of the National Foundation for Celiac Awareness, lipstick, lip-gloss, mouthwash and toothpastes with gluten can all trigger a reaction in people with celiac disease and recommends using gluten-free cosmetics to avoid allergies and internal damage. There is still some uncertainty whether gluten can be directly absorbed through the skin, however, experts note that if a gluten-containing product such as a lotion or sunscreen touches the mouth or lips and is ingested, it can still cause an allergic reaction.
Along with calcium bentonite clay, Adama Minerals Moisture Intense Lotions contain chamomile, yarrow root and almond oil, all of which are known to hydrate, sooth inflammation and boost skin's resiliency. Yarrow root is a rich source of silica, an element know to enhance collagen production and firm skin and almond oil is high in vitamin D, a natural antioxidant. Vitamin D is essential for healthy skin and a study by Johnson and Johnson Skin Research Center found it to alleviate the effects of dry skin, when applied topically. Zion's Moisture Intense Lotions are the future of chemical-free cosmetics and offer peace of mind for those concerned about gluten allergies.
Hydrating, mineral-rich Adama Minerals Moisture Intense Lotions are now available for consumers at Westerly Natural Market in New York City. Zion Health's line of natural, mineral-rich moisturizers include Moisture Intense Lotions in invigorating pink grapefruit, blue orchid, vanilla orange and lavender essential oil scents.
Zion Health's organic, natural ancient clay products are available at Westerly Natural Market at 913 8th Ave., New York, NY 10019, online at http://www.kanwaminerals.com and at health food markets and co-ops throughout the United States and Canada. Zion provides its consumers with pure skin and body care products that are vegan, free of parabens and aluminum and formulated using certified organic ingredients whenever possible. For more information on Zion Health products, go to http://www.zionhealth.com.