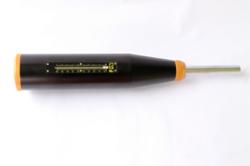 "We are please to offer the Low Impact Manual Test Hammer as a regular part of our catalog" says Michael Hoag President of James Instruments Inc.," it is exciting to see this become a regular part of our catalog"
Chicago, IL (PRWEB) June 20, 2013
James Instruments Inc. the worldwide leading manufacturer of non-destructive test equipment for concrete and other construction materials and coarse grained materials, has introduced a low impact manual rebound hammer. The test hammer is developed to measure strength of thin walled specimens of concrete. Manual rebound hammer provide a rapid and easy method of determine hardness of materials as well. Applications include structural engineers analyzing an existing structure, cocnrete pre-cast facilities utilizing quality control and government institutions and universities. The James Instruments level of commitment to construction has brought out the features sought out by professionals most of all.
The James Instruments Low Imapct Rebound hammer is suitable for:
The quick and easy determination of the strength of concrete.
Lower impact energy for testing thin walled specimens.
Ideal for testing small components
Ideal for testing rock cores
Conforms to ASTM C-805, ASTM D-5875, BS-1881-202, and other international standards
The Low Impact Manual Rebound Hammer is the instrument used for the non-destructive testing of hardened concrete for thin wall thicknesses. The unit is also used on rock cores, it's low impact energy not damaging brittle specimens. This easy-to-use instrument provides a quick and simple test for obtaining an immediate indication of concrete strength in various parts of a structure. The minimum verifiable strength is 1400 PSI (10 MPa) to approximately 9000 PSI (62 MPa). All concrete test hammers measure the surface hardness of the material they are testing; this is then correlated to concrete compressive strength.
James Instruments specializes in Non-Destructive testing equipment for concrete and other construction materials. Central to the improvement of the concrete infrastructure are tools that evaluate the condition of existing construction. Destructive and non-destructive testing (NDT) techniques are applied. Destructive tests can provide direct information, but are relatively expensive, time-consuming and cause damage to the structure. Destructive test results often cannot be evaluated using statistical approaches because the number of locations in the structure that can be tested without damage to the structure is limited. On the other hand, NDT techniques are relatively inexpensive to apply, and they can detect, localize, and characterize flaws and damage in concrete, wood and other construction material structures without leaving any undesirable discontinuities or causing damage to concrete members.
James Instruments Inc. is the leading manufacturer of non-destructive test equipment for construction materials, specifically concrete, ceramic, wood, masonry, mortar, gypsum and other coarse grained materials. We supply the instruments that: measure strength, both compressive and tensile, locate rebar and other objects in concrete and masonry, determine density and analyze materials ultrasonically, analyze corrosion and, finally, determine moisture in concrete and other construction materials. And more. James Instruments -- rugged, quality equipment for field use -- backed by factory service and an ongoing program of research and development.