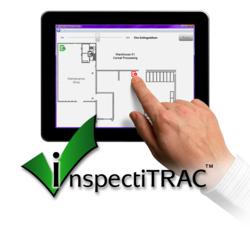 "inspectiTRAC™ Manager has flexibility to allow the administrator at the facility to set schedules and automatic email notifications for audits or audit concerns. Shawn Lauer-Ames
Le Sueur, MN (PRWEB) June 26, 2013
Input from manufacturing industry leaders, describing a need for a solution to mobilize and automate their inspection, audit and observation collection process, led to creation of a mobile system that brings increased efficiency and effectiveness to the collection, transfer, access and reporting of data, called inspectiTRAC™.
Companies have documented an 80% reduction in man-hours] and immeasurable increase in data accuracy through refining their traditional paper-based systems with the current version of inspectiTRAC™. Russell Associates' culture of continuous innovation has lead to further development and enhancement of this innovative system which will be released on July 2.
Russell Associates' inspectiTRAC™ 2.0 adds new features and enhancements that allow for expanded customization of mobile inspection, audit and observation data collection. The system has been developed to the standards of industry professionals and provides users with the ability to collect and securely store documentation, eliminate redundant work and control the flow of data; while remaining flexible for application to any industry need.
InspectiTRAC™ Manager is a management system for reporting, scheduling, alerting and notifying, corrective action tracking and resolution, data collected from inspectiTRAC™. The application features a customized dashboard that allows for real-time access of data as it is collected.
Data collection alerts and notifications from inspectiTRAC™ Manager provide decision makers with the information they need to address incidents quickly and effectively, ensuring continued productivity.
Professionals in multiple industries are excited about the new features and enhancements that will be applied to inspectiTRAC™ Manager July 2.
"With inspectiTRAC 2.0 and the ability to receive real-time data from multiple tablets on our server, I will be able to send out information to anyone that I want to. If I see something that was recorded yesterday that needs to be acted upon, I can get it to the appropriate person right away," said Tom Jeys, EHS Manager, Waterloo, Iowa.
"inspectiTRAC™ Manager has a lot of flexibility to allow the administrator at the facility to set schedules, set up automatic email notifications for audits or audit concerns. Manager also gives us the ability to add users and security at the plant. In the current economy, we are all tasked to do more with less while still assuring that everything is done and accurate," said Shawn Lauer-Ames, Quality Assurance Manager, Lakeville, Minn.
For more information on inspectiTRAC™ and the new features of version 2.0 visit the website.
####
About Russell Associates
Russell Associates, based in Le Sueur, Minn., has more than 30 years experience and expertise working with companies to increase employee productivity from improved job skills training; increased employee safety, food safety and quality behaviors. Using technology, Russell Associates develops solutions that increase effectiveness and efficiencies, reduce cost and improve ROI from training, testing and inspections/audits.