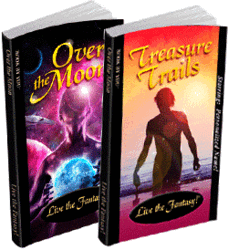 Four great same-sex romance novels to help readers celebrate the spirit of LGBT Pride Month
(PRWEB) June 20, 2013
The world's leading publisher of personalized novels, Book By You, features four great personalized same-sex romance novels to help readers celebrate the spirit of LGBT Pride Month this June.
If May's launch of Star Trek: Into Darkness wasn't quite hot enough, Book By You's new release OVER THE MOON will turn the heat way, way up. This personalized romance is a sexy space-age romp through the galaxy, featuring an authoritative, roguish female starship commander and a passionate, head-strong diplomat whose talent for negotiation is only outshone by her beauty. When the commander is charged with transporting the diplomat on her mission to negotiate peace among several warring alien races, neither of them are too thrilled. But when danger comes calling, the heroic diplomat must use all her courage and negotiating skills, while our roguish commander's brains and blaster prowess must protect the heroine, who reveals a reckless streak almost as long as the commander's. Blast off on a thrilling, action-packed adventure, chock full of sexual tension and romance.
For those looking forward to the summer's crop of reality TV shows (and tired of waiting for the new season of Survivor), TREASURE TRAILS is sure to help pass the time. In this sexy romp, the two heroes are contestants on a Survivor-style reality TV show, TreasureQuest. The first hero is an amiable, idealistic hunk fresh out of a bad relationship. He's hoping the game will help him repair his self-esteem and boost his confidence, all while sticking to his guns. But then he meets his competition—a sexy, ambitious character who's not afraid to manipulate the camera, bend the rules, and sabotage other contestants on his path to the finish line. When a fire ignites between the two competitors, who can tell whether it's just another play for the audience's sympathy, or the real thing? Lesbian couples can also enjoy the fun with the female version, SEDUCTION GAMES.
For paranormal romance lovers who thought Bella was just getting in the way of Edward and Jacob's romance, Book By You's HOT BLOODED is the perfect choice. It all starts with a chance meet-up between a hot college professor and a sexy, mysterious stranger in the shadow isles of a library, where their instant attraction catches them both by surprise. The professor's quiet life turns upside down when he and his wild, crazy gal pal decide to track the sexy stranger. Little do they know the tables have turned, and they're the ones being hunted. Turns out the stranger is an immortal vampire, cursed for centuries to stalk the night in search of blood—and he's caught the professor's scent.
And now, Book By You's entire personalized collection is also available as personalized ebooks. Personalized ebooks are available for download immediately upon ordering. To make them especially unique, each ebook includes a free photo upload feature. Add a personalized dedication, and the result is a remarkable ebook that can be taken anywhere and read any time.
Romance lovers can personalize their selection by providing specific information like loved-one's names, features, even favorite drinks and places, and over twenty-five other unique characteristics to make their fantasy world a reality. A spouse, friends, and family can be included, too. The result is a full-length personalized novel, available in ebook, paperback or hardcover, that can be further personalized with a customized cover and individual photo for the back cover, making this the most unique gift imaginable.
To purchase a personalized romance, readers go to the company's website at BookByYou.com and complete a character questionnaire specifying the information to be included in their book. The company offers a free demonstration area where readers can preview personalized excerpts from any of the company's teen, romance, mystery or children's personalized books.
BookByYou.com has received national media coverage and has been featured on ABC's The View, CNN, Fox News, The Wall Street Journal, Jimmy Kimmel Live and many additional media outlets.
BookByYou.com is an interactive publishing company and the world's largest provider of personalized books. Media interviews, promotions and give-aways are available upon request. Please contact Michael Pocock at 1-877-898-1440 or publish(at)BookByYou(dot)com