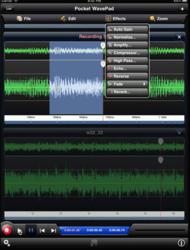 NCH Software has brought their famously easy and professional audio editor to the Android mobile market making WavePad a must have for Android users serious about audio.
Denver, CO (PRWEB) June 19, 2013
NCH Software, the leading provider of audio multimedia software, is continuing to expand its line of mobile applications with the addition of a new Android version of WavePad Audio Editor. With versions also available for Windows, Mac, iPhones and iPads, WavePad makes it easy for everyone to edit audio no matter what platform they are using.
The new audio editing app makes recording and editing voice, music and other audio, while on the go, fast and easy. It's the perfect app for journalists to capture an interview, or for the voiceover artist to record a quick audition for a client.
WavePad sound editor features an easy-to-use editing interface which allows users to make quick edits such as inserting recordings from other files, cutting out part of the waveform, copying and pasting. Apply a variety of audio effects such as amplify, echo, normalize, and high pass filter to enhance the already high quality audio recording. The app also supports auto-trim and voice activated recording. Once a recording is finished it can be easily saved on the device or sent to someone else or to yourself for further editing when you return to the studio.
Recording on-the-go means you can't always control the environment around you. WavePad audio editor includes powerful tools to reduce background noise such as conversations in a coffee shop or traffic sounds on the street. WavePad Audio Editing App is highly versatile and works with a variety of audio formats including wave and aiff.
WavePad has been a highly popular and successful product for NCH Software, receiving acclaim from users and reviewers alike including a Gold Award from Top Ten Reviews. Plus, both the iPhone and iPad versions have 4+ overall ratings from customers. Now NCH Software has brought this same quality and reliability to the mobile world with its Pocket WavePad Audio Editing App for Android.
Download the WavePad Audio Editing App from the Google Play store:
https://play.google.com/store/apps/details?id=com.nchsoftware.pocketwavepad
About NCH Software
NCH Software offers more than 80 easy-to-use software applications for audio, video, business, dictation and other utilities for Windows, Mac and mobile devices. Individual software programs are designed to fulfill specific needs and solidly integrate with related products, improving productivity for small businesses and consumers alike. By offering such a wide breadth of software applications at affordable prices, NCH Software is where users turn for reliable software applications for any need. This approach generates over seven-million unique visitors and three-million downloads per month from the company's website – http://www.nchsoftware.com.