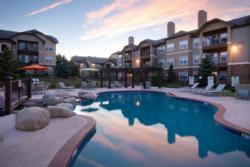 "We plan on phasing in unit renovations and updating the leasing center, clubhouse interior, exterior amenities and design palettes over the next 12-18 months." Tom Barta
Denver, CO (PRWEB) June 18, 2013
Completed in 1999 and 2002 with 562 units, Crestwood becomes Griffis Residential's largest community in the Denver market. Crestwood is located near the proposed 124th Street/Eastlake light rail station. The community is close to many local shopping amenities and employment centers and offers one-, two- and three-bedroom apartments.
"With this acquisition, we have expanded our presence in the north metro-Denver market," says Tom Barta who oversees the company's assets and property management as Chief Operating Officer. "We plan on phasing in unit renovations and updating the leasing center, clubhouse interior, exterior amenities and design palettes over the next 12-18 months."
The Crestwood Apartments acquisition is part of an aggressive growth strategy that has seen Griffis Residential's total unit count grow nearly 20% in 2013 and with it the company's expansion outside of Colorado. Year to date, Griffis Residential has completed over $120 million in apartment acquisitions and is the second largest owner/operator of Class-A apartments in Colorado. Several additional acquisitions are under consideration.
##
About Griffis Residential
Griffis Residential is a multifamily real estate investment company that owns and manages more than 4,500 Class-A multifamily units, mostly along the Colorado's Front Range and Nevada. Headed by Ian Griffis, David Birnbaum, and Tom Barta, Griffis Residential focuses on balancing an aggressive expansion strategy with a superior guest experience for its residents. More information can be found at http://www.griffisresidential.com or Tom Barta (tbarta@griffisresidential.com).
For information, please contact Ian Griffis (ian(at)griffisresidential.com), David Birnbaum (david(at)griffisresidential.com) or Tom Barta (tbarta(at)griffisresidential.com).