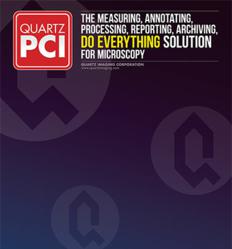 Vancouver, BC (PRWEB) June 19, 2013
Quartz Imaging Corporation will be attending and exhibiting at this year's Annual Meeting of the Microscopical Society of Canada (MSC). Held this year at the University of Victoria the exhibits will be open to all attendees on June 19th and 20th.
The meeting will feature symposia and a poster session as well as demonstrations of a wide variety of instrumentation and techniques. The conference will be complemented by a number of workshops.
In the life sciences, the topics include the biological disciplines that range from medical research such as brain neurophysiology, microbiology, to animal, plant and fungal biology with an integrated and multidisciplinary approach.
In the physical sciences, the topics include atomic resolution imaging of structures on surfaces and within materials, as well as high-resolution compositional mapping of the elements using state-of-the-art analytical techniques being developed in Canada and elsewhere.
In the instrumentation, the topics include new technology and methods that correct for aberrations enabling ultra-high resolution imaging, as well as modifications to beams from plane waves to electron vortex beams, electron spin momentum beams and electron polarized beams that enable new methods of imaging and enhanced analytical electron microscopy. Additionally, a new dynamic TEM project to be conducted in Canada for nano-imaging at the picosecond time scale will be introduced for the first time.
To emphasize the increasing degree of interdisciplinary work between the biological, physical and instrumentation fields, two joint plenary sessions are scheduled, containing presentations relevant to life sciences, physical sciences and instrumentation applications.
About Quartz Imaging Corporation – Quartz Imaging has worked closely with semiconductor companies since it was founded in 1993, including the development of our industry leading Failure Analysis LIMS system (FA-LIMS) and is in the process of developing a LIMS system for semiconductor Reliability Labs (REL-LIMS). Quartz Imaging has more than 2,000 customers in 38 countries utilizing our industry leading solutions for Digital Image Acquisition and Processing (for most image producing instruments including SEMs, TEMs, STEMs, Tabletop SEMs, Cameras, PC Based Instruments, Scanners); 21 CFR Part 11 Compliance; Laboratory Information Management Systems (LIMS); Instrument Access Control; Instrument Remote Control; Automated Inspection Systems for Nanotechnology; X-ray Microanalysis (EDX/EDS) Systems and more. http://www.quartzimaging.com