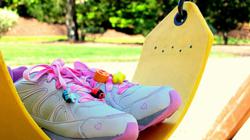 Once you try them on, it's hard to go back to plain vanilla laces.
Seattle, WA (PRWEB) June 19, 2013
Twistie Tips is a series of collectable aglets created to transform generic lace tips on shoes, hoodies and other clothing into fashion statements. The Seattle-based startup launched their crowd-funding campaign on Kickstarter earlier this month, and hopes to raise $35,000 to bring their twist-on accessory to market.
Customizable clothing and accessories have been on a rise in recent years with an increasing number of companies offering mix-and-match options and custom color schemes across their product lines. Driven by consumers who are eager to distinguish themselves and stand out from the crowd, the craze has spawned multi-million dollar companies such as the Crocs footwear charm startup – JIbbitzs in 2006. Wearable collectibles such as the 'Silly Bandz' have also fueled frenzied obsessions across the U.S. with more than a million units reportedly snatched off the shelves every week at its peak.
The Twistie Tips collection rides on the popularity of collectible, easy-on customization products, and features 30 unique charms that are specially designed to easily, but securely twist-fit onto the ends of shoelaces, hoodie draw strings, and other garments with plastic lace ends. The colorful accessory is fine molded with high quality plastic, and is touted as the answer to those who have grown out of their Crocs (and their Jibbitzs) or simply want to expand their collection to other garments.
"I came up with the idea for Twistie Tips because I noticed that all brands of clothing have the same boring plastic lace tips on their shoes, hoodies and athletic shorts," said Victor Beaufrere, Founder and Inventor of Twistie Tips. "I saw the nondescript laces as a blank canvas. I wanted some way to make them a vehicle for the expression of color and style and eventually found the perfect solution to my problem."
Victor adds: "The reception for Twistie Tips has been amazing. People notice them immediately and they ask me about them because they transcend the boundaries of traditional fashion accessories. The fact that the design requires no permanent modification to your clothes, and that it fits universally to all lace tips makes Twistie Tips even more versatile for mixing, matching, and trading. Once you try them on, it's hard to go back to plain vanilla laces."
The Twistie Tips Kickstarter campaign is currently live, and will end on July 6, 2013. Early supporters who pledge above $10 will receive an exclusive set of Twistie Tips, while those pledging $25 or more will receive a limited edition embroidered collector's pouch in addition to their Twistie Tips set. Visit the Kickstarter page at: http://kck.st/11xEsMo
###
About Twistie Tips:
Twistie Tips is a Seattle-based startup founded by Victor Beaufrere, a 23-year-old graduate from the Foster School of Business at University of Washington. For more information, visit: http://www.twistietips.com/