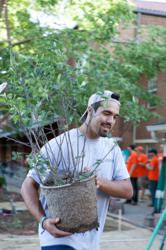 We are honored to work alongside many of the industry's best to make a difference for the Colorado Coalition for the Homeless.
Denver, CO (PRWEB) June 19, 2013
More than 100 volunteers from around the country have turned out for the AEC Cares project to help the homeless and disabled in Denver. Reed Construction Data, the AIA, and The Home Depot Foundation have dispatched teams to 3636 West Colfax Avenue for the blitz build renovation of a facility for the homeless, known as Beacon Place. Tackling tasks that range from painting to landscaping, plumbing and cabinetry, the teams will complete the renovation before the end of day on June 19.
Reed Construction Data, the project's organizer, has been working with AEC Cares throughout the year, raising more than $100,000 in donations and materials to help the Colorado Coalition for the Homeless. The year's project draws to an end with the one-day build that transforms the turn-of-the-century facility into a more safe, comfortable and healing environment.
"Beacon Place provides shelter, three meals a day and medical assistance to disabled veterans and men and women who are fighting disabilities and illness," stated Laura Marlow, Director of Strategic Partnerships, Reed Construction Data. "We are honored to work alongside many of the industry's best to make a difference for CCFH and the men and women receiving help at Beacon Place."
The Home Depot Foundation, philanthropic arm of The Home Depot and strong advocate for veterans, has helped make the AEC Cares blitz build possible—providing significant funding for building materials and help from Team Depot volunteers, who joined the project for two full days of prep work.
"On behalf of The Home Depot stores, The Home Depot Foundation and, most importantly, our store managers and associates, we want to thank AEC Cares for allowing us to be part of this amazing project at Beacon Place," stated Kevin Curfman, Store Manager, The Home Depot 1550.
The project is getting a boost from architects, contractors, designers and manufacturers, who are in town for the 2013 AIA National Convention that begins the day after the blitz build.
"People will know when the architects come to town, because we're here to make a difference in a new community every year," stated Mike Waldinger, Executive Vice President, AIA Illinois, and AEC Cares board member. "Homelessness affects virtually every community in the U.S., and through AEC Cares, we have an outlet to take action with what we do best—provide shelter. Even though it's just one day, the impact lasts a lifetime."
Although billed as a one-day project, the project's design teams have been working behind the scenes for many months to make the event happen.
"This project would not be possible without the help of our sponsors and design team members, who have joined us in giving time, donations, building materials and expertise," stated Laura Marlow. "We are so thankful to the pro bono design team, Path 21 Architecture, Layton Construction, Keesen Enterprises, Landwise and STORM Design/Build for their tireless effort and endless hours of dedicated work. They've truly helped us make a difference for those who deserve it most."
To learn more about AEC Cares and projectDenver, click here.
About Reed Construction Data
Reed Construction Data, a division of Reed Business Information and the Inaugural Strategic Partner of the AIA, is a leading North American provider of construction information. Reed provides actionable insight to construction professionals through a diverse portfolio of innovative products and services, including national, regional and local construction project data, accurate and reliable construction cost data, effective marketing solutions and dynamic market intelligence. To learn more about Reed, visit http://www.reedconstructiondata.com.
About AEC Cares
AEC Cares is an autonomous 501(c)(3) not-for-profit corporation, actively supported by Reed Construction Data, the AIA, Hanley Wood, generous sponsors, donors and volunteers. Bringing together architects, contractors, manufacturers and industry professionals from across the United States and Canada, AEC Cares works to create positive change through meaningful projects that benefit a new community every year. To learn more about AEC Cares, visit http://www.aeccares.com.
About the Colorado Coalition for the Homeless
Founded nearly 30 years ago, the Colorado Coalition for the Homeless has been steadfast and effective in its fight against homelessness in Colorado. Operating more than 40 programs, this 501(c)(3) non-profit has an outstanding record of helping more than 15,000 homeless families and individuals annually – providing not only assistance, but also opportunities for new beginnings.
About The Home Depot Foundation
The Home Depot Foundation is dedicated to improving the homes of U.S. military veterans through financial and volunteer resources to help nonprofit organizations. The Foundation has committed $80 million to these efforts over five years. Through Team Depot, the company's associate-led volunteer program, thousands of Home Depot associates volunteer their time and talents to positively transform neighborhoods and perform basic repairs and modifications to homes and facilities serving veterans with critical housing needs. To learn more, visit http://www.homedepotfoundation.org.