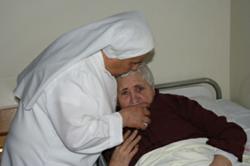 Care for the elderly must also be part of our commitment.
(PRWEB) June 20, 2013
The Franciscan Foundation for the Holy Land (FFHL) has issued a plea for help for the elderly in Bethlehem and other Palestinian territories in Israel. According to Fr. Peter Vasko, president of the Foundation, elderly men and women in the Holy Land are frequently unable to get medical help, needed medications or even food and shelter.
"These people have often been left without family," Vasko said, and are at the mercy of the Palestinian health system which depends entirely on sporadic international aid." As a result, many elderly suffer from malnutrition and chronic disease, he added.
"Many of these unfortunates find themselves living in poorly equipped shelters in the area that are unable to provide for even their most basic needs," he said. "Conditions are especially drastic in Bethlehem which is completely cut off from the rest of the country by the Israeli government," he added.
The Franciscan Social Service Office currently provides partial help in paying for vital medications for the elderly, Vasko said, "but many still suffer daily."
FFHL has numerous programs dedicated to assisting Palestinian Christians with education, housing and employment opportunities in the Holy Land.
"Care for the elderly must also be part of our commitment," Vasko said.