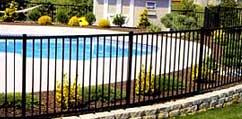 We encourage our customers to shop our selection of Jerith fences to find the one that perfectly complements their home.
Lanham, MD (PRWEB) June 19, 2013
Fence Center, an American online retailer of fences, porch railings and other home exterior fixtures, is pleased to announce that it will now be offering Jerith fences on its website. In order to minimize costs and maximize convenience, Fence Center offers aluminum, chain link and bamboo fences online to give customers a variety of choices to protect and decorate their homes. Jerith is just another example of the quality of Fence Center's inventory of fences and is indicative of their determination to continue to provide its customers the best.
"Jerith manufactures affordable, high quality aluminum fencing right here in America. We encourage our customers to shop our selection of Jerith fences to find the one that perfectly complements their home" said Jeremy Floyd of Fence Center.
Jerith is now the oldest and most well-known aluminum fence manufacturer in the United States. In a time when aluminum is being imported more and more and quality control has slipped in order to cut costs, Jerith has stood strong and continued to grow their company and improve the quality of their aluminum fence. After purchasing Delgard last year, Jerith is now the largest aluminum fence manufacturer in the America. If you're looking at ornamental aluminum fences to protect your home and enhance your yard, you'd be hard pressed to find a better one than a fence from Jerith.
Fence Center's reputation and unique relationship with their vendors allows the Maryland company to offer the best prices and unmatched quality and customer service. In addition to Jerith, you will find a wide variety of fences at Fence Center that encompass what it always strives for in choosing a product to include in its inventory: quality and affordability. You can find Jerith aluminum fences online today as well as tools to find a contractor or get a quote at http://www.fencecenter.com.
About Fence Center:
For over four decades, Fence Center has been providing families with beautiful and affordable fences to protect and enhance their homes. As an American family business, Fence Center strives to deliver outstanding customer service and ease of ordering right from your very own home. For more information about our fences, contact a representative today at 888-336-2358 or sales(at)fencecenter(dot)com.