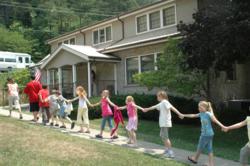 ...we believe in Planet Green's mission and appreciate the additional resources that have come to us as a result of the program. - Hindmand Settlement School Director of Development, Jeanne Marie
Chatsworth, CA (PRWEB) June 26, 2013
Hindman Settlement School is located in Hindman Kentucky and is widely regarded as "a model center for education, health and social services" has bridged the gap between education and eco preservation. Hindman Settlement School has been a cherished partner and strong member of Planet Green's Recycling program since January 2010.
While Hindman Settlement School has always taken great strides to improve their environmental imprint within their school, it was the onset of inkjet submissions from the one of their supporters, "The Daughters of the American Revolution (DAR)" that helped create a new awareness in expanding their recycling and fundraising efforts. In that time, Hindman has contributed greatly and has lead the way in being an example of how education and preserving our environment go hand-in-hand.
Funding from the Recycle Green program supports their Dyslexia Education programs, which include in-school, after-school and summertime tutoring programs for children with dyslexia. They found that much of their success has come from promoting the recycling program via their website, word-of-mouth and new stories.
Planet Green recently featured and interview with the school on their blog and when asked how the program has impacted the school, Director of Development, Jeanne Marie replied, "We have always had an interest in recycling and other practices that are good for the environment. Although the Planet Green funds are only a small portion of our budget, we believe in Planet Green's mission and appreciate the additional resources that have come to us as a result of the program."
To learn more about the Hindman Settlement School, visit: http://www.hindmansettlement.org.
About: Planet Green Recycle is a world leading e-waste recycle fundraising program. Since its inception in 2,000, quality has been and continues to be the focal point of Planet Green's operation. The e-waste recycle fundraising program has helped thousands of charitable organizations, schools, individuals and businesses raise over $40,000,000 and has kept thousands of tons of e-waste out of landfills.