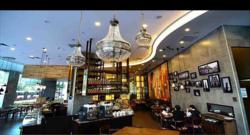 Tapasan has a collection of interesting north Indian, Japanese, South East Asian & Spanish tapas
Singapore (PRWEB) June 20, 2013
Niche Group Pte Ltd has launched its own brand new website that showcases its latest developments & latest brand launches. The current brands that is under its umbrella are PappaSan, PappaMia, Pappa2, PappaGourmet, Cafe Niche, TapaSan, Dehli & JetFox.
The new website includes the latest brand addition, PappaSan Restaurant, that was launched in May 2013. It is a high-end restaurant that is located in prime location at Dorsett Hotel Singapore on the intersection of intersection of New Bridge Road and Cantonment Road. PappaSan restaurant interiors include an 8 meter wide Iconic Painting, high ceilings & dangling lamps that catches one's attention. PappaSan Restaurant serves Singapore iconic flavors such as the chicken rice, oxtail beef noodle, fried kway teow and sticky pork ribs. Also, it serves international iconic dishes such as the Snow Mountain Baked Fish. One would be able to enjoy these local dishes in a chic, air-conditioned high-end restaurant. Another interesting aspect of PappaSan is its 16 seater private room for corporate events & private parties. Latest events at PappaSan includes the visit by Dr. Mahathir, Carrie Models on Mother's Day and the launch of Dorsett Hotel.
Next, its other popular brand is the famous PappaMia outlet which is located in different prime locations such as Changi Airport Terminal 1 & Terminal 2. This popular food joint is designed with rich South East Asian style. The main interior design is based on warm wood color. Its cuisine consists of South East Asian Dishes such Pappa Toast.
Pappa2, located at River Valley & Penang Lane, is another popular brand.
Niche Group also has almost 200 PappaGourmet outlets in different cities in China such as Shanghai, GuangXi & Shenzhen. PappaGourmet Coffee & Bun serves quick bites such as the famous Coffee Buns, Nyonya Kaya Puff & IPoh White Coffee. These dishes originated from South East Asian countries such as Malaysia & Singapore. PappaGourmet also has its restaurant outlets serving main dishes such as Hainanese Chicken Rice.
Cafe-Niche is another brand in Shanghai that accommodates executives from the Shanghai CBD area. It is located in between Marriott and Intercontinental Hotel. It serves South East Asia & Western Food such as Curry Beef, Curry Chicken, Curry Laska & Nanyang Rice.
Dehli is another brand located in Singapore that serves Indian food. TapaSan is the next upcoming Asian & Spanish tapas bar that will be launched at Dorsett Singapore. "Tapasan has a collection of interesting north Indian, Japanese, South East Asian & Spanish tapas, together with wine and beers worldwide. Another brand is JetFox, a light aircraft production company, is part of the chain of Niche Group's Brands," said Irvin, spokesperson for Niche Group Pte Ltd.