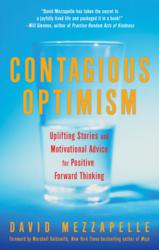 Frequent bits of encouraging advice, insights, and practical exercises.

—Publishers Weekly
(PRWEB) June 19, 2013
David Mezzapelle's Contagious Optimism attained best-seller status in Amazon rankings within the first day of its release. It seems that Mezzapelle's success as an entrepreneur also translates to the reception of his first-ever book.
Contagious Optimism is a collection of personal success stories and advice that discusses the power of positive thinking. Mezzapelle urges readers to find the silver lining in every cloud, despite trials such as personal hardship, economic downturns, and political uncertainties. Developed by the same team that wrote the bestselling Random Acts of Kindness, Contagious Optimism is written to lift hearts, open minds, and create a movement of pass-it-on hope and happiness. Contributors include Dan Tully, CEO of Merrill Lynch, Ricky Wade of McDonalds, Michael Beckwith of Agape Church, Nancy Ferrari of KNOC Radio, and visionary business leader Marshall Goldsmith
Barry Lindstrom, another contributor to Contagious Optimism and a living embodiment of the classic American Dream rags-to-riches story, will be a guest speaker at Changing Hands Bookstore in Tempe, Arizona. Join him this Tuesday, June 25 to hear his personal experience with the life-changing power of optimism.
What people are saying about Contagious Optimism:
"Contagious Optimism is an inspiring invitation to change your life through a change of perspective. Mezzapelle's collection of stories and various viewpoints spurs our imagination of what's possible to create a happy and successful life. A highly persuasive book I full-heartedly recommend."
—Andrea F. Polard, PsyD
"Are you still looking at the glass as half- empty? Well, it's time for you to latch on to something highly transmittable and genuinely rewarding: CONTAGIOUS OPTIMISM. Learn how you can experience true happiness and fulfillment despite life's greatest challenges as you read the stories of those who have chosen to see that glass half -full."
—Chloe JonPaul, author of This Business of Children
June 25, 2013 7pm
Changing Hands Bookstore
6428 S McClintock Dr.
Tempe, Arizona 85283