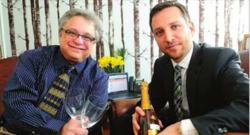 Beverly Hills, CA (PRWEB) June 19, 2013
Alternatives, a revolutionary new treatment facility located in Beverly Hills, permits some patients to quit using drugs while allowing them to continue drinking alcohol. Drs. Marc Kern and Adi Jaffe, the founders of Alternatives, believe that abstinence-only approaches force people to wait until they "hit bottom" before they enter treatment and that this approach hurts instead of helping. It is estimated that 22 million people in the United States need treatment for addiction but only 3 million seek it.
"Imagine if every time you went to any Dr. complaining of pain in your leg the only solution offered was immediate and complete amputation," said Dr. Jaffe. "How long would most people wait before being willing to take such a drastic measure? That is the choice we force every person who experiences drug, alcohol, or compulsive behaviors make and it isn't helping," he continued.
Dr. Jaffe asserts that a mind blowing 85% of people who are dealing with addiction issues never seek help and that this problem is coupled with a very low (5%-25%) success rate for the 10% who actually do enter treatment. Moreover, both doctors argue (and studies illustrate) that stigma, negative attitudes about treatment, and not wanting to completely quit are some of the main reasons people don't seek out treatment.
Because of these dismal statistics, Drs. Jaffe and Kern have teamed up to create a structured outpatient program that is evidence-based and data driven while also removing barriers to treatment. Their goal is to offer solutions that would make more people seek help EVEN if it's not the help that society would initially choose for them.
The Alternatives program is the only program in the Los Angeles area that does not assume that everyone who drinks too much is a chronic alcoholic or addict and offers the choice of abstinence or moderation goals for clients. The program offers a multitude of solutions including moderate drinking for problem drinkers and for those trying to quit other drugs but who still want to continue drinking.
Both Drs. Jaffe and Kern assert, "Our goal is NOT necessarily to have you stop all your drug or addictive behaviors as would be required from most addiction treatment programs. We focus on trying to teach self-control and moderate use."
Moreover, Alternatives is the only alcohol treatment program in the United States to combine over three decades of research on moderate drinking methods for alcohol abuse and compulsions with the latest technology and monitoring tools. The center provides a structured outpatient program that lasts six months during which clients go through four distinct phases of treatment.
About Dr. Adi Jaffe
Dr. Jaffe received his Ph.D. from the University of California, Los Angeles (UCLA) in 2010. Even before he graduated Dr. Jaffe's name had become known through his online and academic writing. His views on addiction and his research on the topic have been published in dozens of journals and online publications and he has appeared on several television shows and documentaries discussing current topics in addiction and the problem of addiction as a whole. Dr. Jaffe also teaches courses at UCLA and the California State University in Long Beach that address addiction specifically or biological psychology and behavioral neuroscience more generally.
Dr. Jaffe's view is a holistic one, drawing from the best and most recent research to bring as complete a solution to addiction clients. At Alternatives, Dr. Jaffe serves as the Director of Research, education, and innovation and is in charge of client monitoring, technology solutions, and data collections and outcomes research. His goal is to make Alternatives the best treatment program there is.
About Dr. Marc Kern
In 1982, Dr. Marc Kern received his Ph.D. in Clinical Psychology from the California School of Professional Psychology (now called Alliant University). In 1983 he founded Addiction Alternatives as a private practice in Los Angeles, California, to provide clients with non-12-step addiction treatment alternatives. At Alternatives, Dr. Kern serves as the Director of Clinical Services.
Dr. Kern regularly speaks at national and international professional conferences, conventions and workshops. He is on the Board of Directors for the self-help program, Moderation Management. Previously, he was on the Board of Directors of SMART Recovery and a member of the original board of Rational Recovery.
As a guest addiction expert, Dr. Kern has made over 100 media appearances, including syndicated and local radio and TV shows, including 20/20, ABC's popular network newsmagazine show, and CNN's renowned Larry King Live. He has also been featured in articles in dozens of daily newspapers and national magazines.
His practical self-help book "Take Control, Now!" is a do-it-yourself blueprint for managing unwanted habits. His work has been published in professional publications, including the prestigious International Journal of the Addictions. He also co-authored the book "Responsible Drinking," which is the authoritative book on moderation.