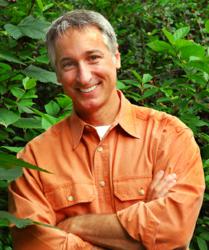 Atlanta, GA (PRWEB) June 19, 2013
The EPA estimates that about 7.8 billion gallons of water – or anywhere from 30 to 70 percent depending on the region – are used outdoors in the U.S. each year. And as much as half of that is wasted due to inefficient watering methods. Today's homeowners should know the methods that allow them to efficiently utilize their natural resources, which as a result saves them money on their utility bills and minimizes their time spent on upkeep.
Learning how to properly maintain and keep lawns and landscapes healthy, green and thriving is not easy as temperature rises in summer, especially for the water conscious landscaper. Certified Landscape Professional and Master Gardener Joe Lamp'l of 'Growing A Greener World' shares his expert advice to help bring out the green in everyone's yards. Joe Lamp'l offers consumers water conservation tips and techniques to help build consumers' master garden or landscaping plans, such as:

Keeping grass green and weed free
Sustainability and what people can do to keep their lawn and garden healthy while minimizing outdoor water consumption
Advice on what plants can achieve optimal water efficiency
Easy methods to properly water a yard
For more information, Joe Lamp'l tips, how-to-videos, and images, go to: http://www.magicbulletmedia.com/MNR/penningtonseed
About Joe Lamp'l:
As a Certified Landscape Professional and Master Gardener, Joe Lamp'l combines his television experience and expertise of landscaping, environmental stewardship and passion for living a more eco-friendly life, as creator, host and executive producer of the award-winning national public television series Growing a Greener World®. The show, which is entering its fourth season, focuses on the stories of people, places and organizations that are doing good things for the planet, with an emphasis on landscaping topics. He also serves as a landscaping and sustainability guest expert on national morning shows like NBC's TODAY Show, ABC's Good Morning America and The Weather Channel, among others.
About Pennington Seed
To learn more about Pennington Seed, visit http://www.penningtonseed.com.
Founded in 1945 by Brooks Pennington, Sr., Pennington Seed, Inc. had humble beginnings as a small feed and seed store located in Madison, Ga., where the company is still headquartered today. Since the company's founding, Pennington Seed has grown into one of the largest manufacturers, producers and distributors of lawn & garden and turf care products in the world, with state-of-the-art manufacturing facilities, observation nurseries and quality control labs located across the country.
Pennington Seed is owned by the Walnut Creek, Calif.-based Central Garden & Pet Company, a leading innovator, marketer and producer of quality branded products for the lawn & garden and pet supplies markets. For additional information on Central Garden & Pet Company, including access to the Company's SEC filings, visit http://www.central.com.