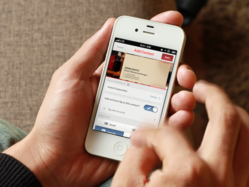 San Francisco, CA (PRWEB) June 20, 2013
Bloodhound's new iOS event app introduces lead retrieval for all event goers, so anyone can use their smartphone as a badge and business card scanner. With the snap of a photo, Bloodhound makes contact information available from both the app and an online dashboard, enabling seamless follow-up via smartphone or computer.
The new networking tool is powerful at conferences and trade shows. Badge and business card scanning is as fast as with a badge gun, and everyone can use their phones to take notes on conversations right alongside the event map and schedule.
Event organizers can input expo schedules via the Bloodhound website, which saves thousands of dollars on printing costs. Attendees then use the mobile app to create a personal agenda, navigate the map, and receive media electronically from presenters.
After the conference, the information from scanned business cards or badges is organized in a personalized dashboard. Users can follow up via phone, manage leads from their computer, and export dashboard content to any CRM software. Bloodhound also accommodates team scanning; companies can sync multiple smartphones to the same account and keep track of their progress in real time. This efficient process helps sales teams obtain more high-quality leads and improve their ROI.
"Bloodhound's ambitious vision to fundamentally change how buyers meet sellers even convinced Peter Thiel's FF Angel to lead the Series A," said Josh Constine, a reporter from the prominent tech blog TechCrunch.com. Founded in 2011 by a group of Stanford alumni, Bloodhound continues to grow with the best engineering, business, and creative talent in the Bay Area.
Over 2500 events in 75 countries have used Bloodhound already, including Intel ISEF, LeadsCon, and WPP Open 2013. Now that the badge and card scanning features have been integrated into the main Bloodhound platform, Bloodhound's lead management system also works outside the event setting.
The events industry leaves room for Bloodhound's further development. As The Next Web noted, "2000 events is a minor fraction of the larger conference industry, giving Bloodhound extensive space to continue its growth."
The newly released version of Bloodhound operates on iPhones and other iOS devices. Updates to the Android version will be released later this year.
To try Bloodhound, download the app at no cost.
To learn more about Bloodhound, visit http://www.bloodhound.com.
Bloodhound is a mobile app that helps everyone do business on and off the trade show floor. Bloodhound delivers a complete, customizable event experience and lead retrieval solution. Navigate the event seamlessly, get suggestions on people and companies you should meet, and keep track of leads using the badges and business cards scanner -- all from a smartphone.