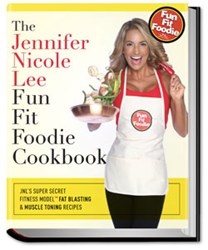 Jennifer Nicole Lee Bestselling books www.ShopJNL.com
Hampton, NY (PRWEB) June 25, 2013
Jennifer Nicole Lee's management team have announced that she will be making a special celebrity appearance at "Authors Night" in East Hampton, New York on August 10th with her best selling books "The Mind Body and Soul Diet" and also "The Fun Fit Foodie Cookbook."
Authors Night is a lavish fundraiser to benefit the East Hampton Library. All proceeds go directly to the Library. Beginning in 2005 with a handful of dinners and a few hundred attendees, it has grown to be the premier literary event of the Hamptons with over 160 authors and more than 1,000 people in attendance.
Jennifer Nicole Lee will be signing her books, and taking photos for the press at the "Authors Reception" from 5 - 7:30pm.
Those who attend this special charity event get to enjoy fabulous hors d'oeuvres and wine while meeting their favorite authors, buy their books and have them inscribed. The most recent titles for each author will be available for purchase at the event. Every title — past and present — written by our guest authors can be inscribed at the event. Attendees are also asked to bring your books with to have them autographed.
Tickets are now on sale. Tickets range in price from $100 for the cocktail hour only to up to $2500 for the more popular dinner parties. Many purchase way in advance in order to be among the first to be notified icket sales are announced.
The East Hampton Library in East Hampton, New York is having 8th Annual fundraiser for the Library on Saturday, August 10, 2013. The event is called Author's Night at the East Hampton Library.
The official website showcasing all the authors involved and their books is http://www.authorsnight.org/
When asked why she is excited about attending the Hamptons Charity Fundraiser, JNL replied "authorship is in my heart and soul, and to be able to make a difference with one of my greatest passions catapults me over the moon. Im honored to be in such amazing company with also some of my favorites authors such as Gwyneth Paltrow, Clive Davis, Alec Baldwin and Dr. Ruth Westhiemer. This event is going to be spectacular as Ill also be in the Hamptons in promotion of my JNL Fusion workout method. So its a win win for all."