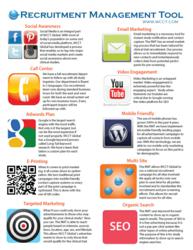 We now have the ability to reach over 1 million people within a seven- day time frame to notify them about any new clinical trial we have.
Costa Mesa, CA (PRWEB) June 19, 2013
WCCT Global, a contract research organization headquartered in Southern California announced today that they have been able to over-enroll for a large phase I clinical trial. The study was a set to be competitive enrollment. WCCT Global was able to recruit so well that they were able to shut out the other 2 sites and fulfill all subject requirements for the whole study. The total number of subjects needed for all the sites was 120 subjects. WCCT Global was able to successfully recruit 90 of the 120 subjects needed from all sites involved. They were able to have such a successful clinical trial recruitment campaign due to the highly publicized RMT (Recruitment Management Tool).
The RMT or Recruitment Management Tool was established by WCCT Global to use all online and offline advertising avenues to have a streamline recruitment process. The RMT has been used for other successful clinical trial recruitment campaigns as well. Recently WCCT Global was asked to recruit for a very large phase 1 clinical trial. Their team implemented the RMT for the recruitment and was able to gain 120 people interested in participating within less than 48 hours. WCCT Global's Digital Media & Marketing Manager Matt Miller stated, "We now have the ability to reach over 1 million people within a seven- day time frame to notify them about any new clinical trial we have. The RMT is designed to go even further with increasing retention by keeping the subjects engaged through multiple media outlets and activities." The strategy WCCT Global has implemented with the RMT has led to WCCT Global being an industry leader in clinical trial recruitment and retention. WCCT Global will be featuring the RMT process at the 2013 DIA Trade Show event at booth 1543.
More about WCCT Global:
WCCT Global is a multi-site, full-service global contract research organization (CRO) of outsourced early drug development and late phase services to the pharmaceutical, biotechnology and medical device industries. The WCCT Global vision, "With compassion for people, we strive for tomorrow's therapies to be available today" truly exemplifies the focus and reason for our cutting-edge work both in our clinics and throughout our operations. As a drug development partner, WCCT Global collaborates with domestic and foreign innovator companies who need regulatory program management, data management and strategic consulting support, with an emphasis on overseeing and executing trials in special disease populations, pediatric populations, ethno-bridging, and cardiac safety. WCCT has extensive experience with healthy volunteer studies including First-in-Human (FIH), as well as specific therapeutic expertise in Allergy, Asthma, HCV, Ophthalmology, Oncology, Renal, and Vaccines. The expertise goes even further with being an industry leader in patient recruitment with the use of social media and online advertising.
Request more Information about WCCT Global Here.