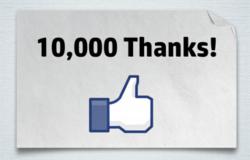 Without all this feedback, many new collections would have never made it to our site.
San Francisco, CA (PRWEB) June 19, 2013
San Francisco based necktie and bow tie retailer, Bows-N-Ties.com, just hit the 10,000th fan mark on Facebook - making them one of the most popular men's tie retailers on social media. To say thanks for hitting this milestone, the retailer gave the lucky 10,000th fan a $100 gift card to their store.
"I have to admit that we were very late to the party when it comes to our Facebook presence," says the site's founder Hendrik Pohl. "We have only started to promote our Facebook page about 6 months ago, and we would have never imagined that our page would attract so many fans and likes."
The 10,000th fan is a big milestone for this small family owned retailer who not only utilizes Facebook as a marketing strategy, but even more importantly, as a way to get customer feedback and to encourage customer interaction. "Initially we thought of Facebook as a marketing platform, but we have since realized that it is much more than that," says Pohl. "In fact, the marketing potential has been overshadowed by the benefit of building an online community. We let our fans vote on new styles, offer giveaways, share style tips, and encourage them to voice their opinion on the quality of our products and services. Without all this feedback, many new collections would have never made it to our site."
To thank their fans, Bows-N-Ties is now celebrating their 10,000th fan by giving him/her a $100 gift card to their site. "This won't be the last time we are welcoming a fan with a present. Our next milestone we are targeting is getting to 25K fans." Bows-N-Ties is expecting to hit this number by the end of the year. What prize the 25,000th fan will get is most likely decided by the Facebook fans themselves.