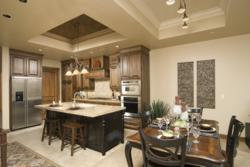 Bend Oregon (PRWEB) June 20, 2013
The Plaza Bend LLC, have contracted with leading real estate marketing company Paradigm Real Estate Solutions to market the beautiful 2 bedroom and 2 bedroom plus den single level condominiums for auction July 20th at The Plaza Condominiums within family friendly Old Mill District and neighborhood. The Plaza Condominiums will be offered for sale at auction with up to 73% slashed in price from previous pricing. Many of these homes offer magnificent Deschutes River and mountain views. These two bedroom and two bedroom with den homes are offered with variety of floor plans. The well designed residences offer approximately 1,525 to 1,815 square feet with designer features throughout. Previous pricing for these homes was up to $1,393,000 now offered at auction with minimum bids of $249,000 to $375,000.
The auction sale event is being marketed by Paradigm Real Estate Solutions, and will be the first significant mid-rise real estate auction within central Oregon in recent years. It will provide buyers an unprecedented opportunity to purchase homes at extremely attractive pricing for some of the best river and mountain views in Bend. These homes are ideally located within walking distance to the Old Mills District restaurants, shops and theaters. The condominiums will make everyday living a joy and for some make the perfect second home within Bend's surroundings.
"We have analyzed the current Bend, Oregon real estate landscape and believe the marketing strategy of presenting this stunning development for sale by auction is the best method to efficiently sell The Plaza," states Kelli Jo Norris, principal of The Plaza LLC. "The Auction sale is the vehicle that allows homebuyers to determine their own prices on these beautiful homes."
"We have conducted accelerated marketing campaigns and real estate auctions throughout the country and welcome the opportunity to work with this fine group and spectacular residences of The Plaza", said Ken Stevens of Paradigm Real Estate Solutions.
"The state of the current real estate market has created an opportunity for homebuyers to now have this chance to set their own values for the exceptional collection of luxurious condominiums found at The Plaza," said Stevens. "There has not been an opportunity like this within the central Oregon and Bend real estate market. The Plaza LLC is trusting the market to deliver the fair value of these well designed homes above minimum bids."
The auction will be held on July 20, 2013 at the nearby Hilton Garden Inn, located at 425 SW Bluff Drive. All potential home buyers must preview and register to attend the auction event. Seller Preferred Financing is available on site for convenience and it is necessary to pre-qualify and register to attend this sale event.
Broker participation is welcome and will provide 3% Co-op fee as a result of a registered client's successful bid and close of escrow. Potential Home buyers and Brokers may find details on the website, http://www.AuctionPlazaBend.com and by visiting The Auction Information Center located on site at The Plaza Condominiums, 363 SW Bluff Drive Bend, Oregon 97702. For more information, contact toll fee 1-888-898-5883, or local number in Bend, Oregon is 541-706-9411.
About Paradigm Real Estate Solutions
Paradigm Real Estate Solutions is a full service national real estate sales and marketing firm leveraging its proprietary technology platform Marketing Success Portal® to deliver the next generation of real estate sales and marketing solutions for homebuilders, developers and financial institutions. Oregon # 201206953, also licensed WA, OR, AZ, CO. For more information visit http://www.Paradigmintel.com