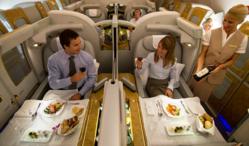 We are looking forward to the energy she will bring to our office, and we see her being an integral part of our company's future.
Burlingame, CA (PRWEB) June 19, 2013
San Francisco Bay Area – Fly Infinite, an innovative leader in the exclusive business and first class travel industry today announced the addition of Gizelle Moreno to its team of travel specialists. Moreno, an industry-leading and highly recruited travel agent in the Bay Area, has selected Fly Infinite as her new company of choice.
"Given Gizelle's significant industry experience and rich history of success, we are thrilled to have her join our team of professionals," stated Jim Savitskiy, Director of Operations of Fly Infinite. "We are looking forward to the energy she will bring to our office, and we see her being an integral part of our company's future."
For the past three years, Moreno worked as a travel agent at another Bay Area travel agency selling approximately 15 to 20 cheap business and first class flights per day. Fly Infinite spent six months recruiting Moreno prior to having her sign on as Fly Infinite's newest senior level discounted travel consultant. In addition to her extensive experience in the travel industry, Moreno graduated from the University of Southern California with a bachelor's degree in Business Administration.
Frank Del Grande, Ticketing Manager of Fly Infinite stated, "Our operations team is delighted to work with such a high volume producer. We know Gizelle is going to keep our department busy issuing the cheapest business and first class flights in the industry!"
About his transition to Fly Infinite, Moreno stated, "Fly Infinite's dynamic environment coupled with their entrepreneurial spirit is the perfect fit for me as I make this next step in my career. I look forward to taking my career to the next level with Fly Infinite."
About Fly Infinite LLC.
Headquartered in the heart of San Francisco's financial district with satellite offices in Burlingame, Fly Infinite leads the national travel industry with a focus on personalized customer service and travel flexibility. As an IATA and ASTA accredited , Fly Infinite matches competitive travel itineraries with the widest array of travel needs on the market. Fly Infinite's mission is to fulfill customers' expectations of cheaper corporate travel and ease of booking around the globe from Inquiry to booking via a fast, hassle-free booking process. Fly Infinite is America's Travel Specialist. For more information about Fly Infinite, please visit http://www.flyinfinite.com.