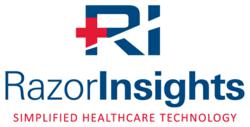 Kennesaw, Georgia (PRWEB) June 19, 2013
RazorInsights, a leading provider of fully-integrated, SaaS-based health IT solutions for Rural, Critical Access and Community hospitals, announced today that Jerry Dennany has joined the company as Chief Technology Officer (CTO).
In his role as CTO, Dennany will be responsible for all facets of RazorInsights' technology, including the development and delivery of its cloud-based ONE Enterprise HIS Solution. He has more than 15 years of experience in healthcare information technology and most recently served as Vice President of Software Development for Allscripts. At Allscripts, Dennany led the platform and departmental solutions development strategy and delivery for the hospital market segment, and his leadership and technology vision brought open and scalable architectures to the Allscripts Sunrise Enterprise product line. Prior to Allscripts, he held the role of Senior Director of Development for Eclipsys Corporation, where he developed and brought to market an open platform system, Helios by Eclipsys, which changed the way healthcare information is managed. Dennany has also served in various technical roles at HBOC, McKesson and Roche Diagnostics.
"We feel very fortunate to have found someone of Jerry's caliber," remarked Reed Liggin, co-founder and CEO of RazorInsights. "Not only is he very familiar with the architectural approach and database tools we use, he fits our culture of building solutions that are cutting edge and disruptive."
Dennany received a B.S. in Computer and Information Science from the University of Maryland University College in Adelphi, Maryland.
About RazorInsights:
Based in Kennesaw, Georgia (in the metro Atlanta area), RazorInsights is a new, dynamic healthcare information technology company. In keeping with the principle of Occam's Razor, the company has created a simplified HIS solution for rural and critical access hospitals - ONE (ONC-ATCB 2011/2012), a single-database cloud solution offering a simple user experience with cutting-edge clinical tools and industry-standardized data. Hospitals can expect to improve their performance and bottom line with ONE from RazorInsights. For more information, visit http://www.razorinsights.com or call 770-308-4111.