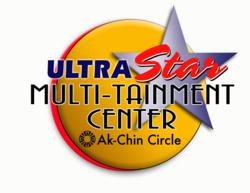 (PRWEB) June 19, 2013
The Rocky Horror Picture Show, the longest-running theatrical release in film history will be making its debut at the UltraStar Multi-tainment Center at Ak-Chin Circle on June 22nd at midnight. Opening night will include special guests from the Midnight Mayhem Theatrical cast and movie tickets are $5.
A film adaptation from Richard O'Brien's British musical horror comedy/rock opera, produced by Lou Adler and Michael White, The Rocky Horror Picture Show features a performance by Tim Curry (Clue, Home Alone) as a bizarre and self-proclaimed "sweet transvestite from Transsexual, Transylvania," and Susan Sarandon (Dead Man Walking, Thelma and Louise) and Barry Bostwick (Spin City), as Brad and Janet, a couple who find themselves lost on a cold, rainy night. The musical pandemonium begins when the couple takes refuge in the castle of Dr. Frank-N-Furter as he is about to reveal his greatest creation, as well as have fun with his reluctant guests.
UltraStar will host a midnight showing every Saturday starting June 22nd and commencing July 27th. Tickets are $5 and guests are encouraged to bring their own props – rice, toast, small toy water guns, toilet paper, so that they can be part of the Rocky Horror tradition. During the first show, guests will be able to purchase prop kits for $5 that include some of the items that are used during the show. The beloved cult movie musical is presented with full audience participation and performance by our guest cast from "Midnight Mayhem".
Adam Saks, vice president of UltraStar stated, "We are very excited to become the new home of the Rocky Horror Picture Show for the Phoenix Valley. I grew up going to the midnight shows and I know how fun it can be and that it is a whole new segment of entertainment. We are looking forward to bringing more of this type of diverse programming to Ak-Chin and Maricopa as we make ourselves the clear choice for where-to-go when you need to do something exciting and new."
"I've been part of ROCKY HORROR for over 12 years, through five theaters, and 3 different cast names, not even counting road trips to see ROCKY in other cities and states and ROCKY HORROR conventions," says Gail Antoinette, one of the young women who are in charge of MIDNIGHT MAYHEM. "And I actually lived in Maricopa for some time and I have family there. I never could have imagined having ROCKY there! So it means a lot to me to bring something I love to a place where I have some roots. As a cast, we couldn't be happier that UltraStar reached out to us, and gave us this chance to spread the ROCKY love beyond the borders of the Valley."
Guests 21 years and over are encouraged to come dressed in costume and are invited upstairs, to the Luxe Lounge pre-party, where they will be serving special drink and food specials for Rocky Horror guests, starting at 10pm.
Costumes encouraged. We ask that guests dress appropriately when entering the lobby. The film is rated "R". The events surrounding this film feature deals with mature subject matter, not recommended for the easily offended or for young children.
About Midnight Mayhem
MIDNIGHT MAYHEM's roots in the Arizona ROCKY HORROR scene go back decades, and they are pros at bringing all the classic ROCKY HORROR traditions to life—shouting callback responses to the movie's bad dialogue, throwing the props (they have ready-made bags for sale that include rice, toast, toilet paper etc), acting out portions of the film in full costume, and of course, dancing THE TIME WARP again. And they are especially skilled in the art of the "Virgin Sacrifice"—a "Virgin" being, in ROCKY terms, someone who has never seen ROCKY HORROR in a movie theater, and the "Sacrifice" being a slightly naughty, sometimes embarrassing but always harmless and fun hazing ritual (it's been part of the ROCKY HORROR scene from the earliest days).
About UltraStar Multi-tainment Center at Ak-Chin Circle:
The UltraStar Multi-tainment Center at Ak-Chin Circle, an enterprise of the Ak-Chin Community, is operated by California-based UltraStar Cinemas. UltraStar Cinemas is recognized for pioneering the digital age of cinema. They are the first theater group in the world to be fully equipped with Pure Digital Cinema® powered by DLP Cinema® technology in all of their locations. The UltraStar Multi-tainment Center at Ak-Chin Circle features "One stop, non-stop entertainment." Guests experience adventure, competition, entertainment and relaxation all conveniently located under one roof. The Multi-tainment Center features state-of-the-art digital theaters, bowling, dining, sports lounge, live entertainment, laser tag and arcade gaming as well as corporate and private event facilities. It is located at 16000 Maricopa Rd., Maricopa, AZ http://www.ultrastarakchin.com
Media contact:
Christine Holtz
Phoenix Marketing Associates
602-282-0202