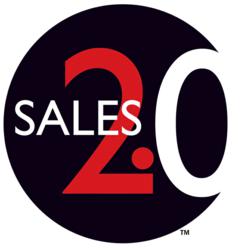 Purcell will share details on HP's latest initiatives to cultivate a socially savvy sales team.
Santa Cruz, CA (PRWEB) June 19, 2013
Today, Sales Dot Two Inc. announced that three speakers at the upcoming Sales 2.0 Conference in Boston will share unique insight about what it takes to succeed as a B2B sales leader.
"Good sales leadership has never been more important than it is today," says Selling Power founder and CEO Gerhard Gschwandtner. "Sales leaders must make many decisions about how to align people, process, and technology. And they must make these decisions in rapid-fire fashion in order to keep up with the pace of change." The good news, says Gschwandtner, is that along with change comes opportunity.
"An event like the Sales 2.0 Conference is designed to help sales leaders cut through the clutter and identify the specific actions that are going to help move their team in the direction of greater revenue," he says. "That's why we're excited to welcome speakers like Tom Gartland, Ken Powell, and Kevin Purcell on July 15 in Boston."
In a special interview at the Sales 2.0 Conference, Patrick Sweeney, President of Caliper, will interview Tom Gartland, President, North America, of Avis Budget Group. Tom Gartland is a visionary leader who started his sales career at the age of 14. As a sales leader who is passionate about success and positivity, Gartland will share his personal advice about how sales leaders can:

retain top performers and help them grow, whether or not they are an ideal fit for management;
identify sales reps' potential, play to their strengths, and get them to excel;
develop a culture of success that fosters greater contributions from the team.
In an afternoon presentation at the Sales 2.0 Conference, Kevin Purcell, Americas Director, Storage Business Unit at Hewlett Packard will participate in a one-on-one conversation with Gerhard Gschwandtner, titled "Sales-Leadership Tales from the Field: 3 Ways Hewlett-Packard Is Creating a New Culture of Success."
Purcell will share how global giant Hewlett-Packard (HP) is leveraging new strategies to improve sales performance and grow revenue. Specifically, Purcell will share details on HP's latest initiatives to cultivate a socially savvy sales team, improve sales compensation plans, improve CRM user adoption, and get maximum ROI on its investment in Salesforce CRM. Attendees will learn how they can adopt similar leadership strategies to help sales team sell more effectively.
In his presentation, "The SunGard Sales 2.0 Transformation," Ken Powell, VP of Global Sales Enablement, will detail how he led this company on a complete sales transformation journey. Only a year ago, the company invested $4 million in an internal sales-enablement initiative focused on dramatically increasing the effectiveness of its global sales organization. It began with the idea to create an ecosystem of applications and services that ran on or around the Salesforce platform, allowing for cross-integration of 10 different sales-software, training, and enablement solutions. Learn how the rapid, nine-month deployment of these applications and intensive training is on pace to incrementally grow global sales by $100 million this year.
All conference registrants, including media attendees, will receive access to these bonus materials after the event:
2013 Sales Management Optimization: Key Trends & Analysis (CSO Insights Report)
The Sales 2.0 Impact Report (2013)
2013 Sales Leadership Priorities Report (Frost & Sullivan)
Complimentary white papers on sales, marketing, and management effectiveness
Select presentations/slides from speakers
More Info
@Sales20Conf #s20c
Sales 2.0 Conference
The Sales 2.0 Conference showcases leadership strategies and SaaS technologies that help B2B sales and marketing leaders create more competitive teams and drive higher profits. Attendees learn how to achieve measurable success in such areas as CRM use, sales and marketing collaboration, lead generation and pipeline management, social media for sales and marketing, analytics and metrics management, customer engagement, sales transformation and change leadership, and sales process improvement. Visit http://www.sales20conf.com to find upcoming events.