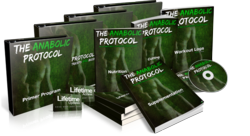 Anabolic Protocols are meticulously crafted 7-week training routines formulated in such a way which results in a highly anabolic state within the body.
British Columbia, Canada (PRWEB) June 21, 2013
Elementus Fitness has just announced the release of groundbreaking new training system called The Anabolic Protocol. This training system provides people with easy-to-follow, but detailed videos and manuals on how to gain unbelievable amounts of lean muscle mass in only 7 week windows utilizing Anabolic Protocols.
Anabolic Protocols are meticulously crafted 7-week training routines formulated in such a way which results in a highly anabolic state within the body. Important hormones responsible for protein synthesis–in laymen's terms–muscle growth, such as Testosterone and Human Growth Hormone spike, and genes in the body responsible for muscular development–go into a state of overactivity.
Developing a training system like The Anabolic Protocol wasn't an easy feat to accomplish; it was the result of a lot of research, trials, consultations with certified fitness specialists, and of course, real-world testing in the gym.
The end result, however, was a complete training, nutrition and supplementation system backed by science, totalling over 200 pages, that is like nothing on the market today.
The core of The Anabolic Protocol is its main training program, which includes 3 Anabolic Protocols lasting 7 weeks for every major muscle group. During each Anabolic Protocol people focus on training two muscle groups at a time more frequently than other muscle groups.
The other muscle groups will not get left behind because they are still being trained. Since they benefit from the highly anabolic state the body enter, they will also be growing, but the focus is more specifically on two muscle groups at a time because focusing on every single muscle would be far too taxing on the body and too much of an unfocused approach.
There are 3 Anabolic Protocols in total that include:
→ Biceps & Triceps (arms)
→ Back & Chest
→ and Legs & Shoulders
The great thing about Anabolic Protocols is they do not all need to be followed one after the other. In theory the 3 Anabolic Protocols make up a 21-week long program that will allow people to accomplish more than any other training regime due to the reasons we discussed previously.
If people don't wish to follow such an intense training regime, however, they could follow one single Anabolic Protocol to see eye-popping results with muscle groups they feel are lagging behind others, and then return to a more standardized training program.
People can obtain radically bigger arms in just 7 short weeks, or see a dramatic improvement in their overall chest size that will leave shirts fitting tighter, giving them that fitness model look!
If all 3 Anabolic Protocols are followed, people will not only have bigger arms, a defined chest, but also boulder-like shoulders that will make their waist look tiny creating that V-Taper people envy, while being able to show off ripped, carved legs.
The Anabolic Protocol doesn't stop at just training. It includes a detailed nutrition manual that gives people the knowledge they require when it comes to food intake, how to construct a meal plan, how to make fitness a lifestyle and the types of foods to be eating. There is even tables that outline macro-nutrient and calorie requirements, broken up into body weights and body types, increasing in 10-pound intervals from 80 to 300 pounds. The added supplementation manual outlines supplements that can enhance ones performance in the gym and there is even a video exercise database that outlines how to do over 100 exercises safely and effectively.
The Anabolic Protocol even includes bonuses like a 12-week long Primer program perfectly suited for individuals who have never set foot in the gym before, a cutting manual, printable workout logs and much more.
If people wish to learn more about the science behind The Anabolic Protocol and how it allows for dramatic physique transformations in only weeks, they could visit the official website: http://elementusfitness.com/theanabolicprotocol/