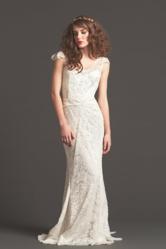 Couples often assume they can only have an English garden wedding in the spring, but it's a luxury trend for fall.
Delray Beach, FL (PRWEB) June 19, 2013
While they're waiting for the next season of Downton Abbey to premiere in January 2014, brides and grooms can capture the elegant spirit of the age with a traditional English garden wedding. "Couples often assume they can only have an English garden wedding in the spring," says Aviva Samuels, founder of Kiss the Planner. "But it's a luxury trend for fall." As the weather cools, ceremonies take place among wrought iron, topiary, hedgerows, fountains and layered floral beds. Receptions, lavishly decorated with vintage details and candles, should convey sophistication and turn-of-century romance.
Kiss the Planner, based in Delray Beach, Florida, works with upscale estates and caterers to help couples bring their couture wedding ideas to life. As the recipient of honorable recognition "Trendsetter of the Year," Kiss the Planner is also one of the foremost sources for wedding trends.
"Many of the most popular wedding trends stick around for a long time, so the key to keeping a trend fresh is to introduce your unique style," says Samuels. "Whether it be a unique color combination or your personal detailing to an already played out theme."
Samuels offers tips to creating an English garden wedding theme this fall.
Sophisticated Attire for Him and Her: Brides will have their choice of gorgeous couture gowns from Fall 2013 collections. Designers such as Vera Wang, Sarah Seven, Theia and Liancarlo revealed romantic, draped dresses that perfectly capture the style. Layers of lace, empire waists, ribbons, full veils and delicate long sleeves can be found in the latest looks. "These are the gowns that can be preserved for future generations," says Samuels.
Grooms and groomsmen should invest in smartly tailored three-piece suits and ties. If weather is cool enough, suits in wool or tweed lined with silk will look dashing. Ties or vests should match the main color palette. "With charcoal or tweed suits, a gentleman can't go wrong with a light blue tie and crisp white handkerchief," says Samuels.
Luxury Venues and Garden Settings for Ceremonies and Receptions: Samuels, who often works with luxury venues such as Vizcaya Museum and Gardens, The Spanish Monastery, Breakers Palm Beach, The Biltmore Estate and The Bonnet House, knows firsthand how the grandeur and refinement of a location can influence the atmosphere. English garden weddings are often conducted outdoors. In South Florida, a winter wedding has the luxury of taking place either indoors or outdoors, due to the lovely winter climate. The Palm Beach wedding planner recommends researching public and private garden ceremony sites. "Botanical gardens are beautiful, and will allow you to focus your budget on a luxury reception venue," says Samuels. "But private gardens and estates provide intimacy and the promise of uninterrupted festivities."
Whether it's a destination wedding or the affair of a local South Florida couple, a private estate conveys the exclusivity and a refined atmosphere that is called for when planning an English Garden wedding. Under any circumstances, and especially if the wedding will take place outdoors, an on-site walk-through with all the key vendors and the venue manager should be done well ahead of time to iron out of any complicated logistics that are likely to exist when planning an outdoor affair.
Carefully Develop the Garden Theme: choose a well-versed floral designer who can handle the challenges that lie ahead, and one that can recreate the lush sights and smells of a traditional English garden. To capture the essence of the theme, consider peonies, lily of the valley, ivy, hydrangeas, hanging amaranthus, lavender, foxgloves, curly willow branches and, last but not least, garden roses. Bouquets can be loose, airy and free-form, becoming statement floral pieces. Boughs can be fastened to drape dramatically over entryways and aisles, and used to create arbors and cozy reception nooks.
Vintage English Detailing: Don't be afraid to showcase family heirlooms, says Samuels. Parasols, gilt frames, ornate mirrors, candelabras, and antique pocket-sized books will round out the theme. Turn-of-the-century bird cages and antique vases can be uniquely positioned upon gift or favor tables. Caterers will provide multi-tier tea cakes across the dessert table. Monogrammed tea cups or fine quality black tea gift boxes are elegant guest favors. Traditional colors for a garden wedding are pastels: shades of purple, blush, pink, cream, cornflower blue, sky blue, mint and butter yellow.
And the honeymoon? Continue the fantasy with an estate getaway in the British countryside.
Bridal couples seeking more advice about couture wedding design and destination wedding and honeymoon services can contact Aviva Samuels for brainstorming services, design-only consultations, partial or full-service event planning at: http://kisstheplanner.com.
About Aviva Samuels
Florida wedding planner Aviva Samuels of Kiss the Planner is available to speak with the media about wedding planning, destination weddings, wedding design trends, and more. The Palm Beach company offers an array of extraordinary wedding services, including destination event design, planning and coordination. For more information on Kiss the Planner or to contact Aviva Samuels, go to: http://kisstheplanner.com