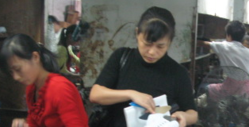 Even this late in the summer, Shoe-Manufacturer.com will make every attempt to get those back-to-school shoe orders made to meet the school opening deadlines, even for just 200 pair per style, but it is crucial that orders for shoes are placed immediately
Guangzhou, China (PRWEB) June 18, 2013
For NYC public schools, it's September 9. For LA public schools, enrollment starts July 30. It might be a little different in your community but from Maine to California the 2013 school year is getting closer, and that means that from mid-August, back-to-school shoes will be high on the list of "must purchases" for millions of families.
Though sneakers might seem to be our "national shoe" for kids, there are still many private schools that require traditional leather shoes for kids, not to mention the marching bands and ROTC programs that require good quality, traditional shoes.
For all these special school shoes, Shoe-Manufacturer.com's Senior Project Manager, Winnie Peng, is sending out a "Last Call" announcement to retail footwear importers, band boosters, clubs, school organization, churches and shoe wholesalers, that there is still time to get those last minute school shoes into production and still take advantage of economical sea shipping.
"Unfortunately, shipping can be a huge part of the total price of bulk school shoe orders, as for any other footwear," says Winnie Peng, Senior Project Manager for Shoe-Manufacturer.com, a national supplier of custom-made, bulk school footwear.
"In many private schools and organizations, the shoe buying committee is a volunteer group that may not be aware of how long it takes to manufacture and ship to have their shoes ready for kids returning to school, and that's understandable.
"But even seasoned school shoes importers can be caught with lower than expected inventories of back-to-school shoes and need a last minute order to be safe.
"Even this late in the summer, Shoe-Manufacturer.com will make every attempt to get those back-to-school shoe orders made to meet the school opening deadlines, even for just 200 pair per style, but it is crucial that orders for shoes are placed immediately in order to avoid costly shipping by air."
About:
Winnie Peng is Senior Project Manager for China Product Sourcing and Marketing Ltd. (CPSM), fashion manufacturer and leading producer of footwear for independent designers and footwear importers around the world, Shoe-Manufacturer.com , and previously Senior Inspector of Quality Control and Corporate Compliance for Best Seller of Hong Kong, supplier of Europe's largest fashion retail group, Best Seller.
Contact:
Winnie Peng
email: winnie.chinaproduct(at)gmail(dot)com
Tel (USA) 1- 336-775-8615,
Tel (China) 136-6233-4753
Skype: winniethepooh9
About:
iNewsTalk.com (iNT) features items of interest in Electronics, Entertainment, Gadgets and Tech, Health, News, Reviews, Sports and Life Style issues.
Contact: Marshall Stone
iNewsTalk.com
Tel 1-336-870-9373
Email: featureseditor(at)iNewsTalk.com
Address: 931-B South Main St., Suite 154
Kernersville NC USA 27284