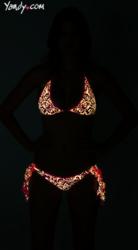 For anyone who is looking to stand out from the crowd, the new and exclusive glow in the dark products from Yandy.com are the perfect choice.
Scottsdale, AZ (PRWEB) June 18, 2013
In the world of retail, there are leaders and there are followers. While many companies are content to copy the innovation of others, only true industry pioneers are brave enough to create a completely new market segment. Yandy.com is proud to be the only online retailer to offer a complete line of glow in the dark lingerie/swimwear/rave wear that can last up to six hours on a single charge from a light source. This line, created exclusively by and available only at Yandy.com features a wide assortment of tops and bottoms in different colors and patterns. Perfect for the bedroom, a day at the pool or an all night dance party, there is a glow in the dark outfit perfect for everyone available right now at Yandy.com.
With the rise of the rave culture, partygoers and electronic music aficionados are constantly looking for fun and unique outfits to wear to the next party. With one of the largest parties in the country about to take place in Las Vegas, Nevada there is still time for ravers planning on attending EDC (Electric Daisy Carnival) to order a fun and unique glow in the dark rave outfit from Yandy.com. In fact, some of the pieces available currently from Yandy.com feature an attractive glow in the dark daisy pattern that would be the perfect choice for this specific festival. These daisy printed items feature daisies that glow in three different colors! Some of the many tops available are the Halter Top, Lace Triangle Top, and Monokini which can be coupled with any of the available bottoms including the Scrunch Back Bottom, Bodyshorts and G String. Each piece is also available in an assortment of colors including black, pink white and turquoise. With all of the combinations available, there is no lack of options, allowing each customer to choose a unique outfit that is perfect to their specifications.
Unlike other traditional panties, the glow in the dark bottoms from Yandy.com are all lined, making them available to be worn as both lingerie and swimwear. As such, they are perfect for parties as they provide more material and protection than typical lingerie bottoms. Even though they are designed to be extra sexy, that does not mean that they lack comfort, in fact the glow in the dark panties from Yandy.com are some of the most comfortable and functional products available on the site!
As always, Yandy.com is proud to offer the fastest shipping in the industry, with most products shipping the same day. This means that orders get to customers faster, so they can spend less time stressing out about their outfit, and more time enjoying the party!
Yandy.com also offers a free panty with any order. This panty is valued at $7.95 and is a way for Yandy.com to say thanks to the many loyal customers that trust them day in and day out for their lingerie, sexy Halloween costume and ravewear needs.
For anyone who is looking to stand out from the crowd, the new and exclusive glow in the dark products from Yandy.com are the perfect choice. Shop now and find out why more people choose Yandy.com than any other lingerie shop online!
Post: About Yandy.com
E-commerce is on the rise and Yandy.com is one of the largest online retailers of lingerie, sexy Halloween costumes, swimwear and clothing on the web. Founded in 2005, Yandy boasts more than 7,000 products always in stock at affordable prices. Yandy ensures that every customer will receive a safe, secure and private online shopping experience and is backed by COMODO online security and Google Checkout. Yandy is dedicated to customer service and only sells what is in stock which allows for quick, same day shipping. Offering the highest quality products at the most affordable prices in the market, Yandy has become a leader in ecommerce. Yandy works closely with all of the manufacturers they distribute for and hand select all of the items on the Web site to ensure customers have the largest and most diverse collection to choose from. In addition, the customer service team at Yandy is unrivaled. With attentive and helpful operators, should a question or problem arise, the customer service team at Yandy is always willing and able to assist. At Yandy, every customer can Be Sexy.