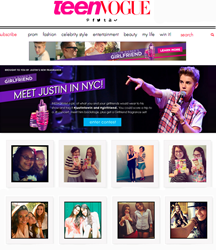 Livefyre is thrilled to be working with Condé Nast as they look to redefine what it takes to connect with readers in the age of social media.
San Francisco, CA (PRWEB) June 19, 2013
Livefyre, the leading provider of real-time social software, today announced that Condé Nast is leveraging its StreamHub platform to transform its digital properties into real-time, social communities. The publishing giant is using Livefyre's platform and Live applications to increase user engagement and time-on-site for esteemed media brands including Condé Nast Traveler, Glamour, Golf Digest, GQ, Lucky, The New Yorker, Teen Vogue and Vanity Fair.
"We are always looking at how we can deliver a more engaging and enriched experience to the consumers of our brands," said Hal Danziger, vice president digital products and platforms, Condé Nast. "Livefyre's technology will allow us to further build audiences around our award-winning content by creating more interactive environments that connect readers in real-time. Our brands are able to host conversations around fashion, food, beauty, travel and style in a visually compelling way, leveraging our audiences' engagement with our brands across the social web."
Condé Nast's digital brands have implemented Livefyre's StreamHub platform in conjunction with a suite of real-time applications including LiveComments, LiveBlog, LiveChat and LiveMediaWall. The suite of products is designed to make websites just as engaging as social networks, with real-time publishing capabilities, real-time conversation tools and real-time content curation from social networks such as Twitter, Facebook, and Instagram.
"Teen Vogue just wrapped a #JustintoWin photo contest in support of our May Music Issue cover star Justin Bieber. We used Livefyre to power a live Instagram feed of reader photos on TeenVogue.com," said Teen Vogue Vice President and Publisher, Jason Wagenheim. "The contest was a tremendous success, generating over 25,000 entries and a surge of traffic to our website."
Condé Nast brands are using this new technology in a variety of ways. In addition to Teen Vogue using the StreamHub platform to build their user generated photo contest which streamed into a live photo wall on their site, Lucky created a LiveMediaWall for its exclusive FABB (Fashion and Beauty Blogger Conference). Lucky highlighted their editor and sponsor tweets in the live stream using special visual queues. With LiveComments, Condé Nast readers can chat with each other in real-time about specific content and tag their friends on Twitter and Facebook to bring them into the conversation.
Livefyre Founder and CEO Jordan Kretchmer stated, "Livefyre is thrilled to be working with Condé Nast as they look to redefine what it takes to connect with readers in the age of social media. Our mission is to help digital publishers, media companies and brands integrate social into the fabric of their user experiences, making their owned properties just as engaging as social networks. Condé Nast has been an incredible partner in this, as they have implemented our technology in strategic ways to drive increased user engagement. They are fully embracing the power of social on their digital properties and it is an honor to be working with them on this transformation."
About Condé Nast
Condé Nast is home to some of the world's most celebrated media brands. In the United States, Condé Nast publishes 18 consumer magazines, four business-to-business publications, 27 websites, and more than 50 apps for mobile and tablet devices, all of which define excellence in their categories. The company also owns Fairchild Fashion Media (FFM), whose portfolio of brands serves as the leading source of news and analysis for the global fashion community. Condé Nast has won more National Magazine Awards over the past ten years than all of its competitors combined. For more information, visit condenast.com or follow us on Twitter @CondeNastCorp.
About Livefyre
Livefyre is bringing social to the rest of the web, helping brands build engaging real-time conversations and community around their owned content. The company's suite of real-time products are defining a new breed of web and mobile experiences that boost website traffic, increase user engagement and drive revenue. As the sixth largest network online, Livefyre is powering real-time social experiences for over 200 leading brands including American Idol, AOL, Bravo, CBS, Condé Nast, Dow Jones/WSJ, FOX, Newsweek/Daily Beast, Showtime, Sports Illustrated and The New York Times.
Founded in 2009 with offices in San Francisco and New York, Livefyre was named one of the best places to work in the Bay Area by the San Francisco Business Times. For more information, visit http://www.livefyre.com.