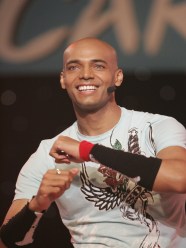 Billy Blanks Jr. is an exceptional example of how strong men empower others," said Frederica Williams, President, Whittier Street Health Center. "His influence helps raise awareness of the importance for men to seek preventative health care.
Boston, MA (PRWEB) June 20, 2013
Fitness expert and choreographer Billy Blanks Jr. will be the keynote speaker for Whittier Street Health Center's annual free Men's Health Summit Educating, Engaging and Empowering Men for the Future on Saturday, June 29, 2013, 10 a.m. to 2:30 p.m., 1290 Tremont St., Roxbury, MA.
Blanks Jr., presenting his keynote at noon, has been described as the face for the new generation of fitness. He went from homeless to a global fitness celebrity and will share his journey of challenge to reward and how men can be motivated to care about their health for themselves and their families.
During the Summit, five health champions will be honored with Whittier's Health Champions Award. They include:

Frank Doyle, Executive Director of the Boston HealthNet
Andrew Davis, President and CEO of Carney Hospital
Matthew Shadrick, Executive Vice President of Eastern Benefits Group
Jay Gonzalez, Senior Vice President and Chief Development Officer of CeltiCare Insurance
Dr. Cyril Ubiem. Coordinator of the Structured Outpatient Addiction Program (SOAP), Whittier Street Health Center
The health summit, free and open to the public, will feature a health fair, free health screenings (including high blood pressure, glaucoma, and prostate cancer), live entertainment, a youth workshop, and a formal program that includes an awards ceremony honoring local health champions.
A Q&A panel discussion to discuss timely men's health issues will lead with a keynote address by Billy Blanks, Jr., and moderated by Alberto Vassallo, Managing Director for El Mundo Boston newspaper. Panelists will include health professionals from Whittier: Osagie Ebokizien, Manager of Quality Assurance and Performance Improvement; Dr. Ken Nwosu, Director of Physical Therapy; Ragan McNeely, Licensed Mental Health Counselor, and Dr. Mark Drews, Associate Medical Director of Adult and Geriatric Medicine.
"Billy Blanks Jr. is an exceptional example of how strong men can engage and empower others," said Frederica Williams, President and CEO, Whittier Street Health Center. "His passion for fitness, along with inclusion of all people, at all levels of fitness makes him a great ambassador for both men's health and this summit. We hope that with his influence, and that of our honorees and panelists, we continue to raise the awareness of how important it is for men to seek preventative health care."
According to the U.S. Agency for Healthcare Research and Quality, men are much less likely than women to look after their health and see physicians. They're 25 percent less likely to have visited a health care provider in the past year, and almost 40 percent more likely to have skipped recommended cholesterol screenings. As stereotype would have it, nagging from women is the main reason men ever get their health checked out.
An integral part of the summit is providing a general understanding of men's health and educating men on the importance of getting screened for diseases for which they may be at risk. More than 300 people are expected to attend the summit. The goal of the summit is to raise awareness among men that physical, mental and spiritual health are interconnected and that by taking charge of their own health, they can build a stronger family and community.
Blanks Jr. is a fitness expert known for designing feel good fitness programs that make fitness fun and all inclusive for families and people of all fitness levels. Blanks, along with his wife Sharon Catherine, have gone from homeless to entrepreneurs through hard work, determination and a dream to make it. He and Sharon appeared on Shark Tank and landed a deal with Daymond John and Mark Cuban for their program Dance With Me, the only actual fitness based dance certification course. They are also in the process of launching their own original family lifestyle and fitness show, "America's Fit Party" and have been seen on The Dr. Oz Show in April 2013.
For more information about the Men's Health Summit, call 617-989-3028 or visit: http://www.wshc.org, @whittierstreet.