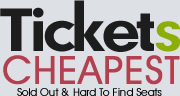 When looking for tickets to sold out NFL games or for premium tickets like right near the sideline or in a luxury box, Tickets-Cheapest.com can prove the best bet.
Tampa, FL (PRWEB) June 18, 2013
Imagine the excitement of the first home game for the Tampa Bay Buccaneers. Now think about the great competition during the game they play against division rivals the New Orleans Saints. Combine these two elements into the same game and it becomes a contest deserving of special attention including tickets being offered to the public weeks before any of the rest of the season. Tampa Bay Buccaneers tickets for home games against all other teams go on sale to the public July 17, but the September 15 home opener go on sale today at 10 am. Buccaneers vs Saints tickets may prove to be one of the most popular games of the season, so fans should not delay.
Find the complete schedule of Tampa Bay Buccaneers home games at Raymond James Stadium below:
Baltimore Ravens - Thursday, August 8 at 7:30 pm (Preseason)
Washington Redskins - Thursday, August 29 at 7:30 pm (Preseason)
New Orleans Saints - Sunday, September 15 at 4:05 pm
Arizona Cardinals - Sunday, September 29 at 1:00 pm
Philadelphia Eagles - Sunday, October 13 at 1:00 pm
Carolina Panthers - Thursday, October 24 at 8:25 pm
Miami Dolphins - Monday, November 11 at 8:40 pm
Atlanta Falcons - Sunday, November 17 at 1:00 pm
Buffalo Bills - Sunday, December 8 at 1:00 pm
San Francisco 49ers - Sunday, December 15 at 1:00 pm
Tickets-Cheapest.com operates in the ticket resale market, similar to sites like Stubhub NFL fans may be familiar with, only frequently with cheaper prices than other such sites. Often Tickets-Cheapest.com sells the exact same seats as other resale sites, and in an exact seat price comparison Tickets-Cheapest.com proved its rights to the name by beating 25 out of 25 competitors for low price tickets. When looking for tickets to sold out NFL games or for premium tickets like right near the sideline or in a luxury box, Tickets-Cheapest.com can prove the best bet, often better than Stubhub.
Give Tickets-Cheapest.com a try for all of your Tampa ticket needs. In addition to Tampa Bay Buccaneers tickets fans can find Tampa Bay Rays tickets, and even The Book Of Mormon in Tampa. If Tampa presents too far a drive get a Tampa hotel for the night, but don't miss these great events and save money on seats with Tickets-Cheapest.com for online tickets including NFL playoff tickets and all other NFL games like the Buccaneers away contest in New Orleans LA.
About Financial Firebird and Tickets Cheapest
The site to buy Cheap Tickets online and its sister sites, including the site to purchase discount Broadway tickets or tickets for Broadway tours , all geared for the consumers looking for low prices, are affiliated with the Financial Firebird Corporation Travel Group, and stand among the top sites sought by travelers and people who enjoy concerts, pro sports and theater performances. Financial Firebird Corporation, established in 2000 and a proud BBB member, provides unbiased consumer information particularly involving personal unsecured debt or mortgages, software and marketing services. These sites for consumers to buy tickets online operate in the resale market and maintain no relationship with the venues or performers. The resale ticket market allows consumers access to popular events once the box office has sold out or to buy premium seats when the venue no longer offers any inventory. Within the group of these secondary market ticket services the Financial Firebird owned ticket sites offer lower prices than competitors. Find the site at Tickets-Cheapest.com.