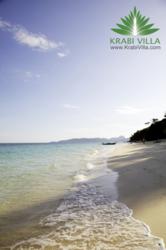 Krabi is now ranked as the number one beach destination in Thailand
(PRWEB) June 19, 2013
Krabi Province, on the Andaman coast of Thailand, has long been in the shadows of more famous Thai beach destinations such as Phuket, Pattaya and Koh Samui. However as these places grow ever more crowded, the natural charms of Krabi have been attracting an increasing number of fans.
In the 2013 Travelers' Choice Destinations Awards, held by TripAdvisor, the popular travel website, Krabi came in as the number 3 destination in Thailand, after the capital city, Bangkok and the cultural capital, Chiang Mai, in the north of the country, and ahead of all the beaches and islands mentioned above. The rankings are based on votes from millions of TripAdvisor readers.
This in effect gives Krabi the honour of being considered the number one beach destination in Thailand.
In addition, some of the area's more spectacular beaches and islands were singled out for recognition in the annual Trip Advisor awards' sub-categories. Koh Lanta, Krabi's largest inhabited island, was voted as the number 3 ranking vacation island in the whole of Asia. With 10 wide sandy beaches along its west coast, the island is very popular with families during the high season months of November – April.
Meanwhile, the world-famous Railay Peninsula nabbed two of the top five spots in the "Best Beaches in Asia" category, with Railay West Beach and Phra Nang Cave Beach coming in at number 3 and number 5 respectively. Railay is part of the Krabi mainland, but has a distinct island feel, as the peninsula is surrounded by high cliffs and is only accessible by boat.
Overall, Thailand scored highly in the "Best Beaches in Asia" category: Thai beaches were voted into 8 of the top 25 places. TripAdvisor claims to be the largest travel website in the world.
The news has been welcomed by tourist officials in the province, as well as local businesses. "This can only give an additional boost to a destination on the rise," said Pierre-Yves Loriers, Managing Director of Krabi Riviera Co., Ltd, Krabi's leading holiday villa rental and management firm. "Krabi used to be Thailand's best kept secret, but not any longer!"
Somkid Kingman, a Krabi native and owner of YourKrabi.com, a locally-based travel guide and booking website, also welcomed the news: "Krabi has so much to offer every kind of tourist, it is good to see it is now getting global recognition."
Barbara Messing, chief marketing officer for TripAdvisor, said: "the TripAdvisor Travelers' Choice awards help identify the world's most highly rated and loved vacation spots. The awards highlight 412 winners worldwide and these impressive destinations offer something unique for every traveler type to help them plan their next perfect trip."