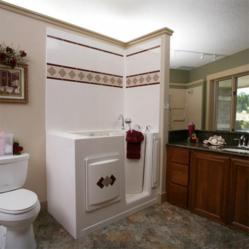 This is a really simple way for customers to leave a walk in bathtubs review online!
Denver, CO (PRWEB) June 19, 2013
Specialty bathtubs provider, Aging Safely Baths announces a new walk in bathtubs review website. The company has made it really easy for customers to publish reviews on hydrotherapy walk in bathtubs and handicap shower stalls.
According to Aging Safely, the walk in bathtubs review website is incredibly simplistic and offers customers an easy way to publish their company and product reviews online. The new site also boasts large, easy to read reviews for people with stigmatisms.
There are several walk in tub brands on the market. Sometimes there's unseen differences between the products which can potentially affect the product lifespan, door seals and even functionality. While there's no perfect solution or product, several of the hydrotherapy walk in bathtubs offered by the company carry third party certifications.
There are some important things to think about before purchasing a bathroom appliance. Shoppers interested in a handicapped bathtub will want to consider the size of the person who will be utilizing the tub and the size of the tub in comparison to the bathroom. Likewise, it is essential to ensure the bather's mobility is conducive to successfully entering a walk in tub. Sometimes wheelchair access transfer bathtubs are a better option for people with minimal to no use of their legs and hands.
According to Aging Safely, customers will also be able to publish reviews on hydrotherapy. Clients will be able to potentially share their success stories utilizing hydrotherapy with others. It's probably no surprise, but warm air jets and whirlpool water jets are a popular accessory option with these specialty bathing appliances.
Furthermore with the new review website, clients will be able to leave a walk in bathtubs review on roll in showers, transfer bathtubs, bathtub lifts and safety grab bars as well. Interested parties that would like more detailed information on a handicapped bathtub are encouraged to contact a representative for a no cost consultation.
Contact Information:
Zach Wennstedt
1-888-779-BATH(2284)
info(at)Agingsafelybaths(dot)com